Video Shows the Moment the Bataclan Was Attacked, as People Desperately Try to Escape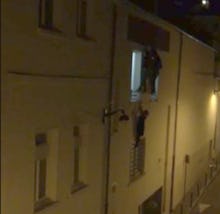 New footage has emerged showing a snapshot of the mayhem that occurred Friday night inside Paris' historic Bataclan concert hall. 
The video was shot by French journalist Daniel Psenny, who has an apartment near the hall. It shows Parisians fleeing out a back exit of the Bataclan. In the chaos, gunfire can be clearly heard while bodies of the dead and injured lay in the street. In some cases people tried to escape through the windows, while others dragged injured friends from the carnage.
"What's going on? What's going on?" he shouts repeatedly from his window. "Sir, Sir, Sir, I'm pregnant," a woman screams.
Psenny himself attempted to assist the injured after he stopped filming and was shot in the arm. He ultimately had to be rescued by French special forces. The graphic footage was uploaded to the website of the French newspaper Le Monde. 
Warning: Some viewers may find the footage in this video to be disturbing. 
ISIS has since claimed responsibility for the attack, which has so far left at least 129 dead and more than 350 wounded. 
According to witnesses, multiple gunman shouting "Allahu Akbar," or "God is great" in Arabic, stormed the Bataclan during a performance of the band Eagles of Death Metal. The terrorists fired for several minutes uninterrupted from Kalashnikov AK-47 assault rifles and also threw grenades into the crowd. Seven terrorists were killed after blowing themselves up with suicide bombs; an eighth was shot dead by Parisian police. 
The extent of those who were complicit in the attack still remains unknown.
French president François Hollande declared a state of emergency Friday night and has since closed the French borders. "This is a terrible ordeal which once again assails us. We know where it comes from, who these criminals are, who these terrorists are," said Hollande in televised remarks to the French people shortly after the massacre. "Faced with terror, France must be strong, it must be great and the state authorities must be firm. We will be."
Nov. 14, 2015. 2:03 p.m. Eastern: This story has been updated.