Here's How the Paris Terrorist Attacks Are Being Reported Across France and the World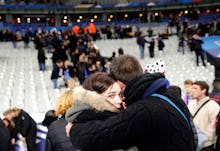 The international community is mourning the loss of at least 129 people in Paris killed Friday night in a series of coordinated terrorist attacks. The Islamic State group, also known as ISIS, has claimed responsibility. French President François Hollande has called the attacks an act of war, and President Barack Obama said the killings were "an outrageous attempt to terrorize innocent civilians."
Photos from the scene offer a glimpse into the chaos that engulfed Paris Friday night. Terrorists attacked at least seven locations, including the Bataclan music hall, where concert-goers were held hostage and at least 89 were systematically killed, according to Le Monde. Another target was the Stade de France, where an international soccer match against Germany was taking place.
On Saturday morning, newspapers throughout France and around the world depicted the terror, sadness and frustration many felt in the wake of the attacks. 
Paris newspaper Le Parisien's front-page headline translates to "This time, it's war."
Libération described Friday night as an "unprecedented wave of attacks."
Spanish-language American newspaper La Opinión also documented the French attacks in its Saturday morning edition.
Mexican newspaper La Razón's Saturday cover used an illustration by Jean Jullien that began circulating the Internet following the deadly attacks.
Portuguese-language newspaper Correio showed an image of a victim being taken by first responders. "153 confirmed deaths" is written in bold black letters.
Other newspapers from France and around the world represented the violence as an iconic moment in France's history:
Or used photos of the violence:
Nov. 14, 2015. 2:03 p.m. Eastern: This story has been updated.