Paris Terror Shooting: Photos of Paris Over the Past 24 Hours Reveal Chaos and Terror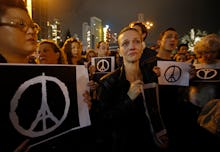 The City of Lights was covered in red on Friday night after a series of gruesome, systematic terroristic attacks left at least 129 dead and 352 injured. Parisians attending an American band's show at the Bataclan concert hall, watching an international soccer game against Germany at the Stade de France and dining throughout the city at restaurants and bars were shot at by groups of men carrying semiautomatic weapons and explosives. The Islamic State group has since claimed responsibility.
As reports continue to develop from Friday's attack in Paris — a night French President François Hollande described as barbaric and "an act of war" — photos from France are beginning to paint a picture of the chaos and terror that engulfed the entire city.
However, as the international community grieves for France following the deadly attack, cities around the world are coming together to stand with Paris and to unite against the forces of evil responsible.
People attending a soccer match at the Stade de France sang the French national anthem as they were evacuated from the arena following a series of explosions outside the building.
Over 100 people were taken hostage at the Bataclan, as gunmen systemically shot and killed at least 80 people inside the theater. 
France was in mourning Saturday. People laid flowers and candles alongside memorials following Friday's attack.