A Day Before the Paris Attack, Suicide Bombers Killed 43 in Beirut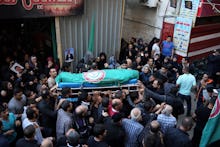 A day before the Paris attacks that left at least 120 dead and the country in lockdown, suicide bombings in Beirut on Thursday left 43 dead and 239 wounded. According to a terrorist who survived, the attack was reportedly carried out by an ISIS cell sent to Lebanon from the group's stronghold in Syria. 
Read next: This Is Adel Termos, the Hero Who Sacrificed His Own Life to Save Hundreds in Beirut
The events went largely unnoticed in the American news cycle. Interest in the Paris attacks trounced the media attention to Beirut. Google Trends searches highlight the massive disparity in news headlines and search interest. But on Twitter, the demand was loud and clear.
Indian blogger Karuna Ezara Parikh wrote a poem that's gone viral since the Paris attacks. "It's not Paris we should pray for," she wrote. "It is the world. It is a world in which Beirut, reeling from bombings ... is not covered in the press."
Inside the attacks: Graphic video posted to the Arabic-language website Al Arabiya reportedly reveals the mayhem, including gunfire. 
The city is still reeling. "There's a lot of shattered glass on the street, a lot of blood, and it's really just a scene of chaos and carnage." Tamara Qiblawi, a journalist, told CNN.
The carnage in Beirut was likely mitigated, however, by the heroic behavior of one man, Adel Termos. Termos
"He tackled him to the ground, causing the second suicide bomber to detonate," Elie Fares, a Beirut-based physician, told PRI. "There are many, many families, hundreds of families probably, who owe their completeness to his sacrifice." 
Termos was killed in the explosion.
Online, Twitter users around the world memorialized his sacrifice.
If ISIS is confirmed as the responsible party, the event would appear to be part of a global wave of terrorism the organization has unleashed in recent months. Last month, another bombing in Ankara, Turkey, left nearly 100 dead. In August, a large car bomb exploded in the Egyptian capital of Cairo, injuring six. In July, clashes between the Islamic State and Egypt left over 100 militants and 17 Egyptian soldiers dead in the Sinai. 
The attacks potentially represent a new and more dangerous stage in the world's war against ISIS as the terrorist group continues to mount increasingly sophisticated and deadly strikes around the globe.
Nov. 15, 2015, 4:41 p.m.: This story has been updated to amend a report that Adel Termos' daughter was killed in the attack. While initial reports said that the girl died, pictures posted of Termos' children at his funeral suggest that she is alive.