How to Change Your Facebook Photo to Paris Flag Blue, White and Red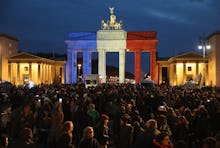 In the wake of the attacks that shook Paris on Friday, the world rallied to show support for France. Facebook, for its part, is offering a custom filter to overlay profile pictures with France's national colors — blue, white and red. Here's how Facebook users who would like to show solidarity with Paris can get the filter. 
First head to Facebook's Products/Service page. In the post announcing the offering, click "Try It."
Users will have the option to overlay the filter onto their current profile picture or select a new photo to upload instead.
Next, Facebook will prompt users to set an expiration date for the overlay. The filter can be activated to expire in an hour, a day or a week. Users also have the option to apply the filter indefinitely, and can later remove it manually. Like any other photo post to Facebook, the offering give users a chance to add a caption. Many users on social media used the hashtag #JeSuisParis to show their support.
Users on Twitter used the same hashtag to show their support.