ISIS' Paris Attacks Draw Reaction and Support From Leaders Around the World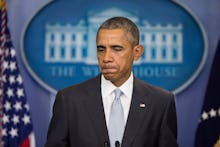 World leaders are showing their solidarity with France following the deadly terror attacks that engulfed Paris' heart on Friday night, killing at least 129 and injuring hundreds more. Major cities across Europe, Asia and the United States have lit monuments and skyscrapers with the French flag's colors in response to the attacks, and residents have taken to the streets in candlelit vigils, placing flowers and drawings on top of memorials for those killed. 
"This is an attack on all of humanity and the universal values we share," President Barack Obama told reporters Friday night. "We stand prepared and ready to provide whatever assistance the people of France need to respond. This is a heartbreaking situation, and obviously those of us here in the United States know what it's like and we've gone through these kinds of episodes ourselves."
"This attack on freedom was aimed not just at Paris, it targeted and it hits all of us. That is why we must all respond together," German Chancellor Angela Merkel said Friday. "We, your German friends, feel very close to you. We cry with you. We will lead this fight together with you against those who did such unimaginable things to you."
"The terrorists again murdered people in Paris to spread fear and hatred among us in Europe," Slovak President Andrej Kiska said, according to the Associated Press. "To spread evil and chaos. After such a hard night, Europe needs even more unity and needs to take a real action. Terrorism never destroys democracy and freedom in Europe if we are able to defend our values: altogether and resolutely."
In a statement released Saturday, Indian Prime Minister Narendra Modi expressed his resentment against the "barbaric terrorist attacks in Paris in the strongest terms," according to the Associated Press. "More than a hundred people lost their lives while they were doing what they loved, or spending time with their loved ones. We feel the shock, pain and outrage of the people of France. India stands firmly with the great people of France in dealing with this tragedy. And we must stand together as humanity in combating the major global threat of our times and to uphold our values and our way of life."
In a statement addressed to French President François Hollande, Chinese President Xi Jinping said, "At the sorrowful moment of the French people, I, on behalf of the Chinese government and the Chinese people, and personally, condemn in the strongest terms the barbaric acts."