Paris Attacks: Here's How to Donate and Help Victims of ISIS Terror Attacks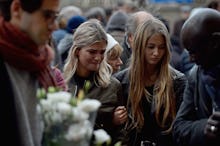 Humanity is beginning to stand in solidarity against the vicious Paris terror attacks that left at least 129 dead and hundreds others badly injured in Paris on Friday night. Major skyscrapers and monuments in cities across the entire world are glowing in the colors of the French flag as the City of Lights goes dark in mourning, with the international community rallying to support France in a number of ways. People are already looking for ways to donate. 
"This is an attack on all of humanity and the universal values we share," President Barack Obama said Friday night, offering his country's unwavering support following the attacks. "We stand prepared and ready to provide whatever assistance the people of France need to respond. This is a heartbreaking situation, and obviously those of us here in the United States know what it's like and we've gone through these kinds of episodes ourselves."
As thousands take to the streets across cities, holding candlelit vigils and spreading flowers across makeshift memorials, many are wondering how they can offer a helping hand to the citizens of Paris suffering after Friday's attack. The French Red Cross announced it has deployed responders to the area to care for victims and treat the wounded. "From the first instants, volunteers and staff of the French Red Cross were at work to rescue those affected," the Red Cross wrote Friday. Donate to the Red Cross here. 
For anyone interested in donating blood to the victims who were shot Friday night, there are hundreds of French National Blood Service locations throughout France. There is also an app called Don du Sang Paris that allows French users to locate a blood drive or donation center and provide for the wounded. 
There is also the Facebook safety check feature available to check the status friends and family nearby and ensure their safety throughout the tumultuous period in France. When a contact on Facebook marks themselves as "safe" in France this weekend, it means their friends shouldn't have to worry about them being in danger. Sometimes, a simple notification is the fastest way to help out friends and let them know someone is safe, and that others are thinking of them.