Security Turned Away the Suicide Bomber at the Stade de France, Saving Dozens of Lives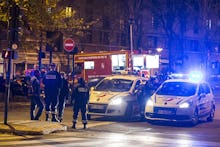 The terrorist attacks in Paris that left at least 129 people dead and wounded over 350 more may have been even worse had security not prevented a suicide bomber from entering the Stade de France, an 80,000-seat venue where the French and German soccer teams were playing an exhibition game.
A guard working the night of the attacks told the Wall Street Journal that the attacker had a ticket to the match and tried to enter the stadium "about 15 minutes into the game." At the security gate, an officer detected the man's suicide vest during a standard security frisk. The attacker reportedly attempted to flee and detonated the vest.
Had the man made it inside, a police officer told the paper, he might have detonated his vest in the crowd "in order to provoke a deadly stampede."
Two more terrorists subsequently detonated bombs outside the Stade de France, killing an additional civilian, but failing to match the horror at Bataclan Theater, where gunmen took 100 hostages and killed 89 others. Still, the Wall Street Journal reported photo evidence showed "blood and viscera on the sidewalk outside the gate" of the stadium.
During the match, an explosion could be heard outside the stadium at around 9:30 p.m. local time.
French President François Hollande was also in the stadium when the bombs exploded. He was quickly evacuated.
The Islamic State, the militant group which controls large stretches of territory and several major cities in Iraq and Syria, has since claimed responsibility for the attacks.
"Eight brothers, wrapped in explosive belts and armed with machine rifles, targeted sites that were accurately chosen in the heart of the capital of France including the Stade de France during the match between the Crusader German and French teams, where the fool of France, François Hollande, was present," the group said in a statement, according to the New York Times. "Let France and those who walk in its path know that they will remain on the top of the list of targets of the Islamic State."
American investigators have been looking into whether or not Islamic State affiliates bombed a Russian Metrojet flight leaving Sharm el-Sheikh, Egypt, in October, killing all 224 passengers and crew.
"This is an attack not just on Paris, it's an attack not just on the people of France, but this is an attack on all of humanity and the universal values that we share," President Barack Obama said from the White House on Tuesday. "We stand prepared and ready to provide whatever assistance that the government and the people of France need to respond."