This Is the Hero Who Sacrificed His Own Life to Save Hundreds From ISIS Terrorists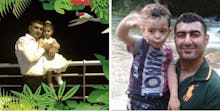 As the world continues to mourn the deaths of more than 120 people in Paris at the hands of alleged Islamic State militants, a hero has emerged whose actions likely saved the lives of countless people — and he's nearly 2,000 miles away from Paris.
Adel Termos was walking in an open-air market with his daughter in southern Beirut's Bourj al-Barajneh district Thursday when he heard a blast. A bomb had detonated. Glass and debris went flying. There was mayhem. When Termos noticed a second suicide bomber preparing to attack, he made a split-second decision to tackle the assailant.
The bomb went off, killing Termos. But his sacrifice likely saved dozens, if not hundreds, of lives.
"He tackled him to the ground, causing the second suicide bomber to detonate," Elie Fares, a Beirut-based physician, told PRI. "There are many, many families, hundreds of families probably, who owe their completeness to his sacrifice."
ISIS affiliates on Twitter claimed responsibility for the attack, though there was no way to independently verify. The terrorists were reportedly sent by a Syrian cell of the Islamic State group two days prior, CNN reported. 
Online, a small but growing band was hailing Termos as a hero and urging people to remember him and the other victims. Present media coverage has largely ignored the attacks in favor of overwhelming coverage of the events in Paris.
On Facebook, the Indian blogger Karuna Ezara Parikh posted a poem that has since gone viral. It urged readers not to pray for Paris but "a world in which Beirut, reeling from bombings ... is not covered in the press."
On Twitter, praise for Termos was effusive:
As Mic previously reported, the attacks in Paris and Beirut are only the latest in a wave of terrorism that has swept the globe in recent months. Only weeks ago, a Russian airliner was downed near Egypt's Sharm el-Sheikh resort in what was likely a bomb attack. In July, Egyptian soldiers killed nearly 100 militants in the Sinai during skirmishes there. Meanwhile in the Turkish capital of Ankara, nearly 100 were killed in explosions. All of the attacks were confirmed of suspected of being linked to ISIS.
Nov. 15, 2015, 4:35 p.m.: This story has been updated to amend a report that Adel Termos' daughter was killed in the attack. While initial reports said that the girl died, pictures posted of Termos' children at his funeral suggest that she is alive.