Can You Travel in France Now? Latest on Train, Airport and Border Closures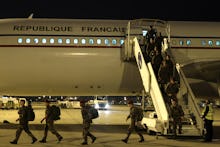 French authorities declared a nationwide state of emergency following Friday's deadly terror attacks in the heart of Paris, closing the country's borders and grounding all flights to and from France. The attacks left at least 129 dead and hundreds wounded after seven suicide bombers carrying semi-automatic weapons opened fire on at least six separate locations throughout the French capital. 
The country enacting a state of emergency also means restrictions to transportation. Wall Street Journal reports all ferries to and from the country, as well as international train services, came to a grinding halt Friday night immediately after the attacks occurred. However, major airlines including British Airways, United Airlines and the economical EasyJet have all announced they will continue to operate their services to and from the country until they're told otherwise. 
The nation's open border policy with several neighboring countries will begin to reinforce check points and additional security measures, and the Eurostar train service into Paris was fully functioning by Saturday morning with increased security, according to Wall Street Journal. 
The publication also reports a U.S. Federal Aviation Administration spokesperson wrote in an email to Wall Street Journal the agency is in "close contact with our security and law enforcement partners" but that flights are operating normally to and from France.
So, while transportation has seemed to go back to normal operations for the most part, travelers can expect increased wait times due to enhanced security measures and an increase in checkpoints. Major cities across the entire world are experiencing similar increases in security measures among transportation services as well.