How the Attacks in Paris Will Play Out in the Second Democratic Debate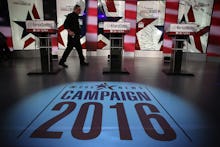 As French officials grapple with the lingering effects of a spree of terrorist attacks in the nation's capital that left at least 129 people dead, the ramifications of the siege of Paris are already rippling through American politics. Stateside policy differences will be thrust into clear relief in Des Moines, Iowa, on Saturday night, where the second Democratic presidential primary debate is being hastily reorganized to shift its focus onto terrorism, foreign policy and national security.
"American leadership is put to the test," Steve Capus, executive editor of CBS News and the executive producer of CBS Evening News, told the New York Times. "The entire world is looking to the White House. These people are vying to take over this office." 
Upon news of the attacks in Paris, aimed at civilian targets across the city, producers of Saturday night's debate commenced a marathon session to reformat debate questions to specifically address the attacks, according to the New York Times. Rather than watching candidates respond to hypothetical scenarios, viewers from around the world will tune in to see how Hillary Clinton, Sen. Bernie Sanders (I-Vt.) or Martin O'Malley would respond as president to the specifics of the crisis in Paris.
"This is exactly what the president is going to have to face," Capus said.
Line in the sand: The swift change in topic of Saturday night's debate — the first of the election cycle to be hosted by a broadcast network — shifts the event's focus to an explosive fault line within the Democratic Party. The three participating candidates hold vastly different foreign policy positions and experience, contrasts that debate host and Face the Nation anchor John Dickerson will likely push to make all the more clear.
Disagreements in foreign policy views are particularly strong between the party's two leading candidates. As a former secretary of state who sat on the Senate Committee on Armed Services during her tenure in the U.S. Senate, Clinton has far and away the most comprehensive background in foreign policy and national security among the three contenders on stage.
"I think everybody realizes that Hillary Clinton's experience as secretary of state gives her a lot of standing," Tad Devine, a Sanders campaign senior strategist, told MSNBC, adding that Clinton has "a huge advantage" in this arena.
Although her time serving as President Barack Obama's top diplomat was not without controversy, Clinton's biggest challenge in the debate will be to differentiate her more hawkish position on foreign intervention from that of her former boss. Obama has come under heavy criticism for saying that ISIS, which has since claimed responsibility for the attacks in Paris, was geographically "contained" within the Middle East. His comments were made on Friday morning, only hours before the attacks began.
Clinton, for example, voted in favor of giving then-President George W. Bush the authority to begin the invasion of Iraq — a vote that may have cost her the Democratic nomination in 2008 and which she has since clarified as a "mistake."
Beyond Iraq, Clinton has time and again demonstrated her willingness to utilize American military power overseas. In 2009, then-Secretary Clinton pushed for an aggressive troop buildup in Afghanistan to beat back a resurgence in the Taliban. Over the course of her tenure, Clinton attempted to convince Obama to arm members of the Syrian rebellion in their fight against President Bashar al-Assad, supported military intervention in Libya during the Arab Spring and helped facilitate the Pentagon in its expansion of drone strikes in the Middle East. Add in her aggressive support for the risky midnight raid that led to the death of al-Qaida leader Osama bin Laden, and Clinton's reputation moves from a hawk to a veritable warrior woman.
Sanders, on the other hand, has faced criticism for his perceived lack of foreign policy bona fides. When he does speak on issues of national security and terrorism, it's largely in the form of pointing out his prescient vote against authorization for the Iraq War. 
In the first Democratic presidential primary debate in Las Vegas last month, Sanders' famous lack of preparation became explicitly clear when CNN's Dana Bash turned the topic toward foreign engagement. When Bash asked the Vermont senator "under what circumstances would a President Sanders actually use force?" Sanders replied that he opposes "a no-fly zone in Syria, which I think is a very dangerous situation, and could lead to real problems." When co-host Anderson Cooper pointed out that Sanders didn't answer the question, he made clear that any unilateral military action by the United States would be off the table — a dangerous proposition for an American presidential candidate to take.
"When President Clinton said, 'Let's stop ethnic cleansing in Kosovo,' I voted for that. I voted to make sure that Osama bin Laden was held accountable in Afghanistan," Sanders said. "When our country is threatened, or when our allies are threatened, I believe that we need coalitions to come together to address the major crises of this country. I do not support the United States getting involved in unilateral action."
Meanwhile, O'Malley, the provincial ex-governor of a mid-Atlantic state, has little in the way of experience on diplomacy or national security issues. His foreign policy platform doesn't extend much beyond the idea that a robust American economy will do more to secure America's citizens and allies than treaties or military intervention.
"Ultimately, the source of America's global strength is our own prosperity at home," O'Malley said at a campaign event in June, in a statement billed as his most comprehensive remarks yet on foreign policy. "No fighter jet or troop battalion will keep us as safe as a vibrant economy, a strong democracy and a growing middle class. Only with a stronger and more inclusive economy can we maintain our security."
The stakes: As the forum's itinerary currently stands, Saturday's debate is the former secretary of state's to lose. Foreign policy is simultaneously Clinton's greatest strength and Sanders' greatest weakness — a recipe for a definitive showdown regarding credentials that the debate's viewers, in the shadow of the attacks in Paris, will consider paramount for an effective commander-in-chief.
As the Republican Party's front-runners continue to demonstrate only a cosmetic familiarity with foreign policy and national security, the reoriented debate in Des Moines could be Clinton's greatest opportunity to definitively demonstrate that she alone possesses the maturity to lead America's national security apparatus. It's an opportunity to appear presidential at a moment when the Western world is most desperate for confident leadership in the face of resurgent global terrorism.