A German Pianist Played John Lennon's "Imagine" to Commemorate Victims of Paris Attacks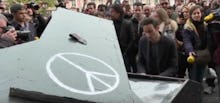 In the wake of the Paris terror attacks on Friday night, which left an estimated 129 dead and 352 injured, many of the city's residents have gathered to mourn the victims, trying to make sense of the brutal tragedy. On Saturday afternoon, a performance of a classic peace anthem outside the Bataclan concert hall helped the residents of Paris, as well as people all over the world, cope. 
The morning after the attacks, Parisians gathered outside the Bataclan concert hall, where armed shooters killed at least 80 people, to leave flowers and tributes for those who lost their lives in the shooting. German pianist Davide Martello was one of the mourners. He decided to play a moving rendition of John Lennon's "Imagine" outside the theater while a crowd of mourners and journalists gathered around him. 
The performance was captured on live television by CNN journalist Hala Gorani, who was reporting live from outside the Bataclan when Martello started playing just a few feet away from the concert hall.
"I don't know if our viewers can hear this, but there's a grand piano that was just rolled out in the middle of the crowd and in the middle of this group of journalists and someone playing 'Imagine' by John Lennon — quite loudly, so perhaps you watching us all over the world, can hear it," she said. 
This isn't the first time Martello has performed in public during a time of national tumult. In 2013, he rolled out his grand piano in the middle of protests in Istanbul's Taksim Square, playing Lennon's anthem as well as some Bach. 
In January of this year, a crowd also sang John Lennon's "Imagine" at a Paris peace rally following the Charlie Hebdo attacks, in which masked shooters stormed the offices of the French satirical newspaper and killed 12 people. 
h/t Huffington Post