Paris Terror Shooting Suspects: Here's What We Know About the Attackers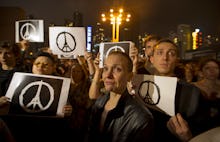 Several arrests have been made since the deadly terror attacks in Paris that left at least 129 dead and hundreds injured Friday night. The identities of seven suicide bombers remain unconfirmed by French authorities, though they noted all but one died during the attacks. One of the bombers was confirmed to have been a 29-year-old Frenchman, New York Times reports, though his name has yet to have been released.
Reports began circulating Saturday that authorities detained three suspects driving a rental car rented by a Frenchman into Belgium that was linked back to the Bataclan theater on Friday night, where over 100 people were taken hostage before being systematically shot and killed. 
The Islamic State, also known as ISIS, has since claimed responsibility for the attacks on six separate locations throughout the heart of Paris, including the Stade de France, the Bataclan concert hall and several other bars and restaurants in the nation's capitol. 
CNN reports raids of three homes in Belgium occurred after the car was linked to the Bataclan, and the terrorist who was a Frenchman was involved in the chaos within the concert hall. He also had a criminal history and was known by officials to have been radicalized in 2010.
Multiple passports were found near the bodies of dead suicide bombers — one Egyptian, one Syrian — according to CNN. Those passports could provide ammunition to those saying refugees should be banned from entering Europe. The Syrian passport belonged to a 25-year-old who died Friday at the Stade de France. Greek officials say the passport was registered on Oct. 3 on the Aegean island of Leros, New York Times reports, and was used by the man to seek asylum in Greece during a wave of refugees entering the country, according to the Telegraph.
Still, it remains unclear what exactly fueled the attacks, whether it be the refugee crisis, or simply "an attack on our common human dignity," according to U.S. Secretary of Defense Ash Carter.
The Islamic State released a statement officially taking responsibility for the events in France, which the New York Times is reporting was carried out by three groups. ISIS says the suicide bombers who killed over a hundred people were "youth who divorced from the world and went to their enemy" and went to the "hearts of the Crusaders" in order to unleash "horror in the middle of their land," according to a translation by the Los Angeles Times.
"It is an act of war that was committed by a terrorist army, a jihadist army, Daesh, against France," French President François Hollande said Friday, according to the New York Times. "It is an act of war that was prepared, organized and planned from abroad, with complicity from the inside, which the investigation will help establish."
Nov. 14, 2015, 6:07 p.m.: This story has been updated.