Bernie Sanders Hits Hillary Clinton Over Iraq War Vote During Democratic Debate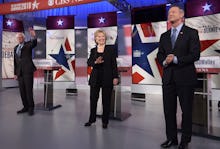 The terrorist attacks in Paris that left at least 129 people dead and more than 300 people wounded cast a pall over the second Democratic presidential debate Saturday in Des Moines, Iowa, as front-runner and former Secretary of State Hillary Clinton sparred with Vermont Sen. Bernie Sanders over the war in Iraq and the Middle East policy in general.
The debate, hosted by CBS News and live-streamed at mic.com/debate, opened with a moment of silence in memoriam of the massacre in Paris. Originally billed as a discussion on the economy, following the Paris attacks Friday night, the debate shifted to matters of national security and foreign policy.
In response to the first question of the debate, Clinton told moderator John Dickerson of CBS' Face the Nation, "I think that we have to look at ISIS of the leading threat of an international terror network. It cannot be contained, it must be defeated ... this cannot be an American fight, though American leadership is essential."
Sanders, who opposes a no-fly zone, responded directly to Clinton, saying the United States had a moral obligation to help form an international coalition against the Islamic State group after creating a power vacuum in Iraq, a reference to Clinton's vote in favor of the Iraq War.
"But let me have one area of disagreement with the secretary," Sanders said. "I think she said something like, 'the bulk of the responsibility is not ours.' Well in fact, I would argue that the disastrous invasion of Iraq, something I strongly opposed, has unraveled the region completely, and led to the rise of al-Qaida and to ISIS.
"Now in fact, what we have got to do, and I think there is widespread agreement here, is the United States cannot go it alone. What we need to do is lead an international coalition, which includes very significantly the Muslim nations in that region, are gonna have to fight and defend their way of life."
Sanders responded to a question on whether he was tying together Clinton's vote to authorize force in Iraq and the Paris attacks, saying he didn't think "any sensible person would disagree that the invasion of Iraq led to the massive level of instability we are seeing right now. I think that was one of the worst foreign policy blunders in the history of the United States."
Clinton responded by pointing out that Islamic terrorist attacks predated the invasion of Iraq, saying "9/11 happened, which happened before there was an invasion of Iraq ... I think if we're ever going to really tackle the problems posed by jihadi extreme terrorism, we need to understand it and realize it has antecedents to what happened in Iraq, and we have to continue to be vigilant about it."
Sanders concluded his point, saying the United States had a history of performing "regime changes" with "unintended consequences," drawing a clear distinction between his record and Clinton's more hawkish stances on foreign policy.
Clinton has said she argued for greater support for Syrian rebels opposing President Bashar al-Assad as secretary of state, claiming that the failure to prop up the opposition created the chaos that paved the way for the Islamic State group's rise. In October, Clinton called for a no-fly zone over Syria, where ISIS controls large swaths of territory. Airstrikes led by the United States have battered ISIS fighters in both Iraq and Syria for over a year, but the group has shown surprising resilience.
Watch the candidates' exchange on the Islamic State group here: