Here's What We Know About the Victims of the Paris Attacks That Killed at Least 120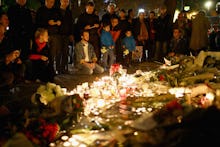 On Nov. 13, a wave of terrorist attacks in Paris involving an as-yet-undetermined number of individuals carrying small arms and explosive suicide vests killed at least 129 people and wounded over 350 others. Killings were reported outside a French-German soccer match at the Stade de France, outside cafes and bars, and at the bustling Bataclan concert venue, where the rock band Eagles of Death Metal were playing a densely attended show.
On Sunday, French Prime Minister Manuel Valls said authorities had identified 103 of the 129 victims of the deadly attacks, according to NBC News. French President François Hollande said the Islamic State, otherwise known as ISIS or Daesh, attacked "youth in all its diversity." Those killed Friday represented 19 different nationalities, the Associated Press reported.
Names of the victims are still emerging, but the details known so far show the victims were a mix of Parisian locals and international visitors hoping to enjoy the city's famous nightlife on a busy night. Here are some of them. 
Marie Lausch and Mathias Dymarski
A friend of Parisians Marie Lausch and Mathias Dymarski couldn't find the couple after they went missing Friday night while attending the concert at the Bataclan concert hall. Clara, who was tweeting updates of the search for Lausch and Dymarski, later wrote, "The search is over. I have no words, only tears. Marie and Mathias both have left us."
Elif Do?an
Turkish site Aydinlikgazete reported the death of Turkish-Belgian citizen Elif Do?an on Monday morning. Friends were using the hashtag #rechercheParis to try and locate where Do?an was following Friday's attacks. The 28-year-old was visiting Paris.
Maxime Bouffard
Sudouest reports 26-year-old Maxime Bouffard from Sarlat, in the Dordogne, lived in Paris for five years and was building his career as an independent filmmaker. He was hit by a bullet in the Bataclan theater and died in the arms of a friend, according to the publication.
Kheireddine Sahbi
Algerian violinist Kheireddine Sahbi moved to Paris and enrolled at University of Sorbonne to study music, Chouf Chouf reports. A video circulating Twitter since the attack shows the musician's exquisite talent.
Michelle Gil Jaimes
Mexican national Michelle Gil Jaimes was among those killed in the attacks, Mexican news outlet El Universal reported. She was from Tuxpan in the Mexican state of Veracruz, the state's Gov. Javier Duarte confirmed. 
Lola Solinas
Lola Solinas of France, a roller derby player, was killed in the attack at Bataclan theater, according to BuzzFeed. Her family confirmed her death via Twitter. 
François-Xavier Prévost, 29
François-Xavier Prévost, from France, worked in Paris in advertising and was killed at the Bataclan, according to La Voix Du Nord. 
Elsa Delplace
Elsa Delplace, who was from Chile but living in Paris, and her mother were killed during the concert at Bataclan. Delplace was grandniece of Ricardo Nunez, Chile's ambassador to Mexico, according to the Telegraph.  
Mohamed Amine Benmbarek
A family member of Mohamed Amine Benmbarek of Morocco confirmed he was killed in Bataclan theater. His wife, who was with him, was critically injured. 
Nohemi Gonzalez, 23
California State University, Long Beach, student Nohemi Gonzalez, 23, was in Paris studying abroad at the Strate College of Design at the time of her death, according to the New York Times.
"Yesterday I lost the most important person in my life," her boyfriend, Tim Mraz, wrote on Instagram, according to the Los Angeles Times. "She was my best friend and she will always be my angel forever. I am lost for words. My prayers are with her family. Such a bright soul and the sweetest girl with a smile on her face."
Aurelie De Peretti, 33
London project manager Delphine De Peretti told the New York Times her sister, Aurelie, was at the concert and was confirmed dead by Paris medical examiners.
"I am like a robot," De Peretti added, reported the paper. "I don't know what to do next. I have not watched the news or slept since last night."
Nick Alexander
Also killed was Nick Alexander, a merchandiser working at the Bataclan, and the first Briton confirmed to have died in the attacks.
"Nick was not just our brother, son and uncle, he was everyone's best friend — generous, funny and fiercely," his family told BBC. "Nick died doing the job he loved and we take great comfort in knowing how much he was cherished by his friends around the world."
Juan Alberto González Garrido, 29
Juan Alberto González Garrido was from Madrid, writes Marca, and was attending the show at the Bataclan when he was killed. 
Valentin Ribet, 26
Valentin Ribet, a criminal lawyer at firm Hogan Lovells who attended the London School of Economics, was attending the concert at Bataclan when he was shot and killed, reported the Guardian.
"This is an awful tragedy and hard for any of us to truly comprehend. We are shocked by both our loss and the wider events in the city," Hogan Lovells told the Guardian in a statement.
Guillaume B. Decherf
French music journalist Guillame B. Decherf was in the Bataclan theater, having recently covered Eagles of Death Metal's latest album "Zipper Down," reports BuzzFeed. He had worked at Les inRocks since 2008 and also at other publications including Metro, Rolling Stone, and Liberation, according to a LinkedIn profile obtained by the site. Staffers at Les inRocks wrote they were "shocked" by his dead and noted he had two daughters.
Djamila Houd, 41
Djamila Houd was killed in the city and originally hailed from the town of Dreux. "With her death, an entire generation of the people of Dreux has been deeply injured," Dreux paper L'Echo Republicain wrote, according to the BBC. "All the mothers of families share Djamila's mother's pain."
Thomas Ayad, 34
Amiens resident Thomas Ayad died at the Bataclan, reported the BBC. He was a member of an amateur hockey club, who wrote on Facebook they had learned of his death with "great sadness" and would be meeting to pay tribute to him on Sunday night.
Asta Diakite
French soccer midfielder Lass Diarra announced the death of his cousin, Asta Diakite, on Twitter.
"In this climate of terror, it is important for all of us who are representatives of our country and its diversity, to speak and to remain united against a horror that has no color, no religion," Diarra wrote in the note, according to the Independent.
Elodie Breuil, 23
Speaking to Time, Elodie Breuil's older Alexis Breuil, 26, details the harrowing timeline of events that unfolded Friday night as he and his family struggled to make contact with Elodie, a design student at Conde, who was killed at the Bataclan. 
Mathieu Hoche
French Journalist for a french TV news channel France 24, Mathieu Hoche, was killed among those killed in Friday's attacks. Per the BBC, Hoche was a father to a six-year-old son. 
Nov. 15, 2015: 9:00 a.m. Eastern: This story has been updated.