'Project Runway: Junior' Is Adorably Revelatory — and One of the Best New Shows of 2015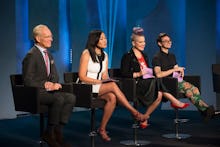 Within the first five minutes of Project Runway: Junior's premiere episode, the audience meets Jaxson. He's one of the contestants, a 15-year-old designer from Kansas. He's got big glasses and a dorky teen sensibility. He's grown up on a farm, with all the responsibilities that entails — milking cows and feeding farm cats, he lists as examples. 
When not working on the farm, Jaxson has been refining his skills as a fashion designer, which far surpass what one might expect from such a young designer. Project Runway: Junior will give him his chance to show the world what he's learned.
This spin-off of longtime flagship reality series Project Runway may seem like a recipe for disaster. Take a dozen young, inexperienced designers and throw them into what is basically a typical season of Project Runway. There's no curve in difficulty or judgment. It's the fashion equivalent of Fox's MasterChef Junior. Yet like that cooking show, and against all odds, Project Runway: Junior is a revelation. Thanks to 12 truly adorable, inspiring, up-for-anything contestants, the reality competition series is one of 2015's best new TV series.
When the audience meets Jaxson, he's with Zach, a 15-year-old from Kentucky who has incredible personal style and beams with self-confidence. Like Jaxson, he's uniquely himself. Zach is lively, flamboyant and seemingly totally comfortable with who he is. They and the other 10 contestants are clearly blown away to be on Project Runway.
Much of Project Runway: Junior's charm comes from how utterly teenaged the contestants are in persona, and thus how genuine their reactions are. They're in awe of being on a Manhattan rooftop. They take selfies together. They're floored when they see mentor and Project Runway legend Tim Gunn for the first time. "I'm gonna pass out!" 17-year-old Californian designer Matt cries.
These teens are wunderkinds, but they have no ego about it. They seem acutely aware that everyone else in the room is as good as they are. And make no mistake: These kids are good. Not "good for their age" or "good under the circumstances." Given only a day to work on garments inspired by New York City and representative of their own points of view, several turned out great looks — better than you'd find on the original Project Runway in recent years.
Gunn himself decried the drop in quality of the main series in a recent interview with Entertainment Weekly, saying he "hated" season 14, the most recent cycle. In truth, the fashion competition has been showing quite a bit of wear in its later years. Back in 2010, the show's producers and Lifetime chose to make each episode run for 90 minutes — too long for any reality series. Additionally, each season has brought more drama and gimmicks, which distract from what viewers once came to expect from the show: great fashion.
Project Runway: Junior strips all that artifice away. It's back to an hour-long show, the focus is on the fashion, not the drama, and Gunn seems reenergized as a mentor, able to actually help these impressionable designers in a way he hadn't in the past few years on the adult version of the show. The judges are also great, including a softer Kelly Osbourne (formerly of Fashion Police) and Project Runway season four winner Christian Siriano. Their criticism is fair and non-pandering, coming from a place of actually wanting to see the designers grow.
At the runway show, where the young designers show their first contributions, Jaxson reveals a stunning skirt that depicts the New York skyline. The front of the skirt is white with gray buildings, representing day, and the back is dark with colorful stripes standing in for lit-up skyscrapers at night. 
Osbourne describes it as a mix of "chic and kitsch," and she's absolutely right. It's a literal interpretation of the challenge executed with aplomb. Adorably, when Gunn asks Jaxson about his ideal customer, he can't bring himself to say that she's a "badass" woman, instead preferring the abbreviation "BA." 
"BA?" Gunn asks. "Women who have an undergraduate degree?"
Jaxson earns high marks for the look, as do 13-year-old designer Maya (for a killer mauve jumpsuit that would have been a deserving winner) and 16-year-old native New Yorker Samantha (an early frontrunner thanks to her challenge-winning design). That Jaxson places third for such a cute, smart look speaks to the quality level on this show. "Junior" should not be mistaken as code for "light." These kids are bringing it.
Junior proves the Project Runway formula itself is still rock solid. A great season of this show simply requires a lack of artificial drama and a commitment to wowing the audience with great fashion from unexpected minds and hands. 
If the rest of Project Runway: Junior is merely about watching Jaxson, Maya and the other young designers grow even further into themselves and their skills, it won't just be a great season of Project Runway. It will be some of the finest television of 2015.
The premiere episode is available to watch on Lifetime's website, and new episodes air Thursdays at 9 p.m. Eastern. Watch the preview for the second episode below.