Bernie Sanders to Hillary Clinton on Wall Street Donations: "Not Good Enough"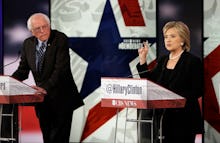 The Democratic presidential debate in Des Moines, Iowa, may have started off on unfamiliar political turf for Vermont Sen. Bernie Sanders on Saturday, but once the conversation turned from foreign policy to economic inequality and campaign finance, the socialist senator had some choice words for former Secretary of State Hillary Clinton regarding her relationship with Wall Street.
After Clinton parried questions about hefty political donations to her campaign from Wall Street banks and executives — about $290,000 from the employees of only five banks through the end of June — Face the Nation host and debate moderator John Dickerson sparked the exchange by asking Sanders about previous comments he had made regarding Clinton's ties to Wall Street donors.
"You've said that the donations to Secretary Clinton are 'compromising,'" Dickerson said. So what do you think of her answer?"
Sanders had only three words: "Not good enough."
Sanders' answer was greeted with loud applause and laughter, followed by an intense line of attack against the idea that Clinton could receive campaign donations from an industry she's expected to regulate. He then excoriated her for her husband's decision to repeal the Glass-Steagall Act, legislation that separated investment and commercial banking activities.
Clinton, visibly angered, made little effort to hide her displeasure in being accused of hanging a "for sale" sign around her neck.
"He has basically used his answer to impugn my integrity, let's be frank here," Clinton said, shushing Sanders' attempt to interrupt her. "Not only do I have hundreds of thousands of donors, most of them small — and I'm very proud that for the first time, a majority of my donors are women, 60% of them, actually."
Clinton then took an unexpected page from the debate playbook of former New York City mayor and presidential candidate Rudy Giuliani: citing 9/11. "I represented New York on 9/11, when we were attacked," she said. "Where were we attacked? We were attacked in downtown Manhattan, where Wall Street is. I did spend a whole lot of time and effort helping them rebuild — it was good for New York, it was good for the economy and it was a way to rebuke the terrorists who had attacked our country!"
"So it's fine for you to say what you're gonna say," Clinton continued, "but I look very carefully at your proposal: Reinstating Glass-Steagall ... is nowhere near enough. My proposal is tougher, more effective and more comprehensive because I go after all of Wall Street, not just the big banks."