Cecily Strong Opens 'Saturday Night Live' With Brief, Heartfelt Tribute to Paris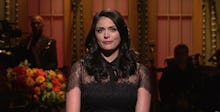 The Nov. 14 edition of Saturday Night Live opened with a heartfelt message of solidarity to the victims of the terrorist attacks in Paris on Nov. 13, which killed 129 people and left more than 350 others wounded.
Cast member Cecily Strong took to the stage in a black dress to address the audience and send condolences to France in its moment of pain.
"Paris is the city of light," Strong said. "And here in New York City, we know that light will never go out. Our love and support is with everyone there tonight. We stand with you."
Strong then repeated the phrase in French.
"And now, live from New York, it's Saturday night," she finished in the show's traditional conclusion to its cold open.