ISIS Militants Are Suspected of Another Attack in Turkey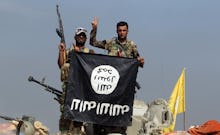 Just days after an attack in Paris by ISIS terrorists that left 129 dead, a bombing by suspected ISIS militants in southeastern Turkey has injured five police officers, the Associated Press reported.  
The attack took place in the Turkish city of Gaziantep, near the Syrian border, after police raided an apartment being used by suspected militants. Rather than be taken alive, a terrorist inside detonated explosives attached to his body, blowing himself up. Earlier that day, Turkish soldiers killed four ISIS militants during a shootout near Gaziantep. 
The officers conducted the raid in connection to an October bombing in the Turkish capital of Ankara that left roughly 100 dead. The explosion in Gaziantep caused no deaths, but one of the officers was reported to be in serious condition. 
Turkey is currently hosting the 2015 G20 summit in the city of Antalya, more than 500 miles away. Leaders from around the world, including U.S. President Barack Obama, are currently in attendance. The attacks in Paris and elsewhere are expected to dominate the agenda.
If ISIS is ultimately found responsible for the Gaziantep bombing, it would be the latest strike from the group which has shown an increasing willingness to attack more ambitious targets around the world. In addition to the attacks in Paris and Ankara, the group was likely responsible for bombings and skirmishes in Egypt's Sinai as well as the downing of a Russian airplane near the Egyptian resort town of Sharm el-Sheikh. The day before the Paris attack, ISIS bombers killed 43 at an open-air market in Beirut.  
In addition to expanding its territory through military force to now include large, oil-rich, swaths of Iraq and Syria, the group has been unusually successful at recruiting over social media, successfully convincing thousands from the western world to convert to Islam and join their ranks or, more ominous still, potentially building sleeper cells in countries like France and elsewhere around the world. 
With the threat of ISIS clearly no longer a regional one, how to address the terrorist organization will likely become a focal point for governments around the world in the coming weeks and months.