Belgium Authorities Arrest 7 People Suspected in Paris Terrorist Attacks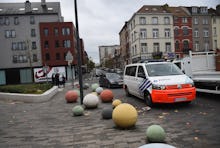 Police in Belgium have detained seven people believed to have been involved in the deadly attacks in Paris, a Belgian official told the Associated Press. The unnamed official said the seven arrested individuals would know on Sunday how much longer they would be detained. 
Seven of the aggressors involved in the bloody attacks in Paris on Friday are dead. Two of those assailants were French men residing in Brussels, the Belgian official told the Associated Press. One of the two attackers lived in Brussels' Molenbeek neighborhood, an area considered a breeding ground for extremists, according to the Associated Press. 
A video posted to the Times of Oman's YouTube page showed the moment Belgian authorities arrested three people with possible links to the Paris attacks, which killed 129 and injured hundreds of others. 
The arrests in Belgium were tied to "suspect vehicles," according to Belgian Prime Minister Charles Michel. 
"A case has immediately been opened linked to suspect vehicles in Paris, to check people linked to those vehicles," Michel told German TV station RTL, per i24News. "There have been several arrests."
This is not the first time the organization of terrorist attacks has been tied to the area of Molenbeek. Assailants involved in both the Charlie Hebdo attacks and the train 2004 bombings in Madrid were reportedly connected to the Molenbeek neighborhood.
Early on Sunday, a broader European manhunt was underway. 
Authorities are still hunting for one or two additional assailants suspected to be "directly involved" in the attacks, the Washington Post reported. ISIS, who on Saturday took responsibility for the organized assault, said the siege in Paris involved eight attackers, not seven as has been reported. 
French Prime Minister Manuel Valls said that of the 129 victims killed in the deadly attacks that shook Paris on Friday, authorities had identified 103 by Sunday. Here's a list detailing just a few of the of the many lives lost in what French President François Hollande has called "an act of war."