Terrorists May Have Used PlayStation 4s to Plan ISIS Paris Attacks. Here's How.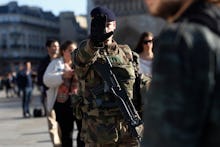 Correction: Nov. 17, 2015: The following story has been debunked. It was originally reported by Forbes, however it has since been reported that it was not confirmed that a Playstation 4 was found in the home of one of the attackers. 
Story follows: 
The people who carried out Friday's attacks in Paris may have used Sony's PlayStation 4 video game consoles to coordinate the operation, according to officials in nearby Brussels, where at least some of the suspected terrorists likely originated. The game consoles would have allowed the attack's perpetrators to communicate more securely — as in, away from intelligence officials' ears or eyes — compared to traditional channels like email or smartphone apps.
When Belgium authorities arrested several people with suspected links to the Paris terrorist attacks, among the evidence they recovered was at least one Playstation 4 console, Forbes reported. "The thing that keeps me awake at night is the guy behind his computer, looking for messages from [the Islamic State group, or ISIS] and other hate preachers," Jan Jambon, Belgium's federal home affairs minister, said Friday, according to Quartz. "PlayStation 4 is even more difficult to keep track of than WhatsApp," the popular instant messaging app for smartphones. He said ISIS uses the gaming console because it's harder for authorities to keep tabs on. 
"With PlayStation 4, it seems likely that simple voice communication could have worked just fine," Forbes contributor Paul Tassi wrote. "It's still difficult for investigators to monitor IP-based voice systems compared to say, a simple cellphone. ... The point is that terrorists could simply be in a [PlayStation Network] party together and chatting away mostly free from the fear that anyone is listening because of the difficulty and infrequency of governments eavesdropping on those forms of communication." 
Terrorists could also use more stealthy communication means, including ones that wouldn't require any verbal or written messages at all. For example, a player in Super Mario Maker could spell out a note in gold coins, something that would almost impossible for intelligence agents to catch. 
It wouldn't be the first time a PlayStation 4 was used for potential terrorist plots. In May, an Austrian teenager pleaded guilty to terrorism charges after investigators found bomb-making plans on his Playstation, Reuters reported. 
Friday's series of coordinated terrorist attacks in Paris left 129 people dead and hundreds more injured. Terrorists believed to be associated with ISIS carried out several attacks on the city in tandem, including detonating bombs outside a soccer match at the Stade de France and killing nearly 100 people at the Bataclan theater, a popular concert venue.