Omar Ismail Mostefai: Everything We Know About First Named Suspected Paris Terrorist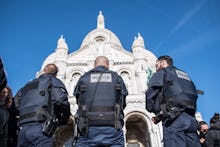 The first of the seven suspected assailants involved in the deadly terrorist attacks in Paris has been identified as Omar Ismail Mostefai. Mostefai, 29, was among the three shooters and suicide bombers who gunned down 89 concert-goers at the Bataclan music hall, where the majority of the night's fatalities occurred. A total of 129 victims were killed across Paris on Friday in the coordinated series of attacks, for which ISIS has claimed responsibility.
Authorities were able to identify Mostefai as an assailant after discovering his severed finger among the carnage and debris at the Bataclan, Agence France-Presse reported.
Who was Omar Ismail Mostefai? A French citizen from Courcouronnes, a town located south of Paris, Mostefai was living 60 miles outside Paris in the French town of Chartres until 2012. According to the BBC, Mostefai regularly attended a local mosque in Chartres during that time. 
Jean-Pierre Gorges, Chartres' mayor, confirmed Mostefai as an attacker in a post to Facebook. "How many deaths does it take for our leaders to understand and act?" Gorges wrote.
Hardly a crime record: Though Mostefai is not thought to have committed any major felonies before Friday's bloodbath, he was convicted of eight petty crimes between 2004 and 2010. And while Paris prosecutor François Molins added that authorities suspected Mostefai of radicalization in 2010, the alleged assailant had "never been implicated in an investigation or a terrorist association," according to the Agence French-Presse. 
Mostefai's 34-year old brother was shell shocked to learn the news. "It's a crazy thing, it's madness," he told the Agence France-Presse, adding that he had not spoken to his brother recently and he had last heard Mostefai had gone to Algeria. "It's been a time since I have had any news," he told the Agence France-Presse. "I called my mother, she didn't seem to know anything." 
Authorities have detained Mostefai's brother and father for further questioning. Meanwhile, the first arrests of suspects thought to be connected to the attacks were made in Belgium on Sunday while a manhunt for at least one more suspect percolated across Europe.