13 Photos of the Massive Pro-Labor Rally That Swept South Korea on Saturday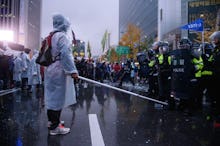 One day after an estimated 60,000-80,000 people rallied in the streets of Seoul against conservative President Park Geun-Hye's policies, the South Korean government has announced there will be zero tolerance for any more violent protests.
"The government was fully prepared to guarantee a lawful and peaceful rally, but some people came prepared with illegal equipment such as steel pipes and conducted a violent protest," Justice Minister Kim Hyun-woong said during a news conference, according to Reuters. "These activities were a grave challenge to law and order and public authority, and they will not be tolerated."
According to Reuters, 51 people were arrested on Saturday "on various charges including illegal protest, assaulting police officers and destroying public equipment." The Korean Confederation of Trade Union estimated turnout at a much higher 130,000.
The demonstrators are denouncing Park's labor reforms, which Al-Jazeera notes includes policies designed to make it easier for large corporations to lay off workers, as well as other Park administration policies like requiring all middle and high schools to use only government-issued textbooks beginning next year. The protesters believe the new texts might downplay human rights abuses committed by previous South Korean regimes before the massive pro-democracy protests in the late 1980s.
Park's father, Park Chung-hee, was an authoritarian ruler who was assassinated by the Korean Central Intelligence Agency's chief in 1979 amid concerns the military was planning a harsh military crackdown on democratic activists.
According to the New York Times, protesters say the new government-issued textbooks may white-wash the elder Park's rule. The demonstrators are also concerned that the new Park government will continue his pattern of strong-armed rule, with some in the crowd chanting that the authorities were "fascist."
KCTU president Han Sang-gyun, whom Reuters reports has orders out for his arrest following involvement in previous rallies, was curt in a statement to the news agency.
"The government must immediately cease worsening labor conditions," he told Reuters while attempting to evade riot police.
However, according to Reuters, Park's government is in little danger of unraveling, with public opinion polls conducted by Gallup demonstrating the conservative Saenuri Party enjoys the support of 39% of voters, while the most serious opposition, the New Politics Alliance for Democracy, polls at just 22%.