President Obama, President Putin Meet on G20 Summit Sideline to Discuss Syria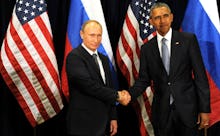 President Barack Obama and Russian President Vladimir Putin met Sunday on the sideline of the G20 summit in Turkey, according to Reuters. Among the things they reportedly discussed were the need for a political shift in Syria, which has become a breeding ground for extremist activity linked to ISIS, amid an ongoing civil war between President Bashar al-Assad's government and rebel groups.  
"President Obama and President Putin agreed on the need for a Syrian-led and Syrian-owned political transition, which would be proceeded by UN-mediated negotiations between the Syrian opposition and regime as well a ceasefire," a White House official said, according to Reuters.
During the conversation, which lasted 35 minutes, Obama and Putin found common ground in agreeing on the need to include Syria in the political transition. 
U.S.-Russian relations continue to be icy as Putin and Obama disagree over Russian military air operations in Syria, which began in September, and Putin's expressed backing of al-Assad. The Islamic State group has claimed responsibility for the deadly attacks in Paris on Friday that killed 129 people and wounded more than 300 others. The ISIS-led terror attacks have sparked no shortage of conversations on Islamophobia, collective defense and the best way for world leaders to respond. 
During the summit in Turkey, Obama diplomatically expressed condolences for the Russian lives lost in the Metrojet plane that crashed in October, Time reported, and pledged to escalate efforts to wipe out ISIS in Syria.