French Police Stopped and Released Paris Attack Suspect Hours After Identifying Him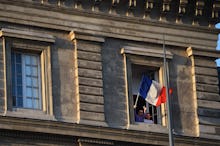 French police are searching for 26-year-old Belgian man Salah Abdeslam, a suspect in Friday's terrorist attacks in Paris.
Police in Belgium have detained seven people thought to be involved in the attacks that ISIS has claimed credit for, which killed at least 129 and injured hundreds more, but Abdeslam is still on the run. 
The Associated Press reports that police stopped and then released Abdelslam in a car near the border with Belgium, hours after identifying him as the "as the renter of a Volkswagen Polo that was abandoned at the scene of the attack," according to French officials.
The French National Police tweeted the following alert on Sunday, identifying Abdeslam as a suspect and warning that he is dangerous:
Abdelslam has brown eyes and is 1 meter, 75 centimeters tall (around 5'9"). French police ask anyone who encounters the suspect or has any information on his whereabouts to contact them directly. "Do not intervene yourself," the tweet reads. 
He is one of three brothers suspected to have been involved in Friday's terrorist attack; one of his brothers has already been arrested and the other died in the attack, the Associated Press reports.