9/11 Hero's Husband Sends Back Wife's 'Glamour' Award in Anger Over Caitlyn Jenner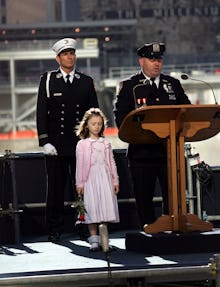 The husband of a New York City police officer who died during the Sept. 11, 2001, terrorist attacks has sent back his wife's posthumous Glamour Woman of the Year award, all because he can't stand to see her honored alongside 2015 award-winner Caitlyn Jenner.
Jenner, whose highly publicized coming out as a transgender woman this year won her several awards, including an ESPY, received the Glamour award for her advocacy work in the LGBT community. Officer Moira Smith won the award in 2001 after she repeatedly charged into the burning south tower of the World Trade Center complex while evacuating "hundreds" of survivors and never came back out.
This week, her husband, James Smith, wrote on Facebook, calling Jenner's award a "slap in the face," misgendering Jenner as a "man" and announcing he would be mailing back his wife's award.
According to a profile on the NYPD website, James Smith was also an officer with the agency.
The text of the letter to Glamour staff is below:
On October 29th, 2001 I was honored to accept the Glamour Magazine "Woman of the Year Award" posthumously given to my wife, Police Officer Moira Smith. Moira was killed on September 11th, 2001, while rescuing thousands from the World Trade Center. EMT Yamel Merino was also posthumously honored that evening for her heroism.
Portions of Smith's letter have since been republished in media outlets like the New York Post and have won him praise on some conservative sites like BizPac Review.
The letter has also drawn a number of social media posts from aggrieved conservatives worried about social engineering and preserving the gender binary.
"We were proud to honor his wife ... in 2001, and we stand by our decision to honor Caitlyn Jenner," a Glamour spokeswoman told the New York Post. "Glamour's Women of the Year Awards recognize women with a variety of backgrounds and experiences."
In a promotional video for her acceptance of the award, Jenner said she hoped to one day see "a little space out there in the world for people to self-identify about who they are."
James Smith did not respond to a request for comment from Mic.