This Firefighter Just Received the Most Extensive Face Transplant in History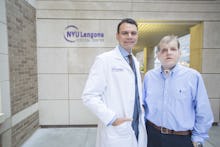 New York — Fourteen years after a fire left him severely disfigured — no ears, no eyelids and mere suggestions of a nose and mouth — Patrick Hardison finally has a complete face again.
The former Mississippi firefighter, who sustained the debilitating burns battling a blaze in 2001, is the recipient of the world's most extensive face transplant to date. In a remarkable surgery that took over a year of preparation and spanned 26 hours in the operating room, Dr. Eduardo D. Rodriguez and his 150-person team at New York University Langone Medical Center transferred the face of a recently deceased bike mechanic onto Hardison's bare skull. 
Hardison's medical team announced the success of the face transplant, which took place last August, at a press conference on Monday.
"This was a well-synchronized procedure, one we'd rehearsed so many times," Rodriguez said.
Hardison's ordeal began on Sept. 5, 2001, when he and fellow volunteer firefighters were summoned to a raging fire in a mobile home, as detailed in this New York magazine profile. The man who lived in the home claimed his wife was still inside — not realizing she was, in fact, down the road fishing. Hardison was inside the house, searching for the woman, when the ceiling collapsed on top of him. By the time another firefighter pulled him out the window to safety, his entire face was on fire.
Seventy-one surgeries over the next 12 years attempted to restore Hardison's face to some semblance of normalcy. Doctors transferred skin from his thighs to his head, sculpted his lips into what looked like a mouth, and fitted him for prosthetic ears. Still, he told New York, "Kids ran screaming and crying when they saw me."
Enter Rodriguez, a then-University of Maryland plastic surgeon who, in 2012, replaced the face, jaws, teeth and tongue of a man whose face had been shot off. The following year he became chair of plastic surgery at NYU's Langone Medical Center and wanted to perform another face transplant — this time on Hardison, whom he'd met the year before.
"Over time, Patrick began to lose faith," Helen Irving, LiveOnNY's president and CEO, told the press conference audience. "He set himself, and us, a deadline of August. On Aug. 12, I was finally able to call Dr. Rodriguez and tell him that not only did we have a potential match, but the family said yes. Patrick's donor had been found."
The face now affixed to Hardison's head once belonged to 26-year-old David Rodebaugh, a Brooklyn, New York, bike mechanic who died after being thrown from his bike and landing on his head, helmet-less. The match was facilitated by LiveOnNY, an organization that matches donors' organs with potential recipients. 
Forty-eight hours after Rodebaugh's death, doctors stripped his face from his skull and prepared to transfer it onto Hardison, whose face had also been surgically removed. 
Rodriguez fit Rodebaugh's old face onto Hardison's head, attaching it over the cheeks, chin and nose. Eventually, Hardison's nerves and muscles would connect with the new face, allowing for feeling and expression.
Rodebaugh's mother reportedly told Irving that the donor had always wanted to be a firefighter. "David was born a miracle," Irving quoted the donor's mother as saying. "He was born to be a star. He will always be a star, and the miracle of David will live on."
Face transplants are relatively new to the world of medicine, the first one conducted in France in 2005. Just a partial face transplant, its recipient, Isabelle Dinoire, had lost parts of her face when bitten by her dog earlier that year.
The first full face transplant — including jaw, nose, cheekbones, eyelids, muscles and even teeth — was performed in Spain in 2010, on a man who'd accidentally shot himself.
Here in America, Charla Nash is perhaps the best-known recipient of a full face transplant. She underwent the operation in 2011, two years after surviving a harrowing attack from a neighbor's 200-pound chimpanzee.
At the conference at NYU, video footage played of Hardison seeing his family after the surgery. He kissed them with his new face, and they hugged and cried. "When you actually ask these individuals what it is that they miss, you'd be surprised," said Rodriguez in the video. "The things we take for granted every day, for them, is a new beginning."
According to Rodriguez, if more people register as donors, these operations can start to become more frequent. Hardison's is one of 30 facial transplants performed since 2005. "With this new face," Rodriguez said, "we're now giving Patrick the chance for a new beginning. We hope his story will unfold exactly as he expected it to be."