In Light of Paris Attacks, 27 US Governors Said They Will Deny Syrian Refugees Entry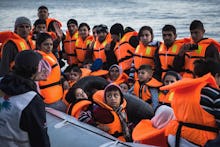 As the world continues to mourn terrorist attacks in Paris that left 129 dead and hundreds more injured, a number of U.S. politicians are beginning to question a planned move to accept up to 100,000 Syrian (and other) refugees into the United States by the end of 2017.
The point: It is known that a passport belonging to a Syrian refugee was found near the dead body of one of the Paris terrorists, and authorities in Greece and Serbia have confirmed that its owner crossed into Europe in early October. 
For Alabama Republican Gov. Robert Bentley, it was all the proof he needed. 
"After full consideration of this weekend's attacks of terror on innocent citizens in Paris, I will oppose any attempt to relocate Syrian refugees to Alabama through the U.S. Refugee Admissions Program," Bentley said in a press release issued Sunday. "As your governor, I will not stand complicit to a policy that places the citizens of Alabama in harm's way." 
The release said Alabama currently maintains a refugee processing center in Mobile, but that, so far, no refugees have been relocated into the state. 
Also on Sunday, Michigan's Republican Gov. Rick Snyder, reversing his previous support for accepting refuges, released a statement saying "our first priority is protecting the safety of our residents." 
Snyder's and Bentley's stand was echoed across influential quarters of the Republican Party. Since their announcement, 19 more governors have followed suit. 
A total of 27 states now have all made statements to similar effect. 
Arkansas Governor Asa Hutchinson did not miss the opportunity to follow suit.
Republican Sen. and Louisiana gubernatorial candidate David Vitter joined the fray on Facebook.
"Today I'm calling on Obama to stop allowing Syrian refugees into Louisiana." 
The call to restrict Syrian immigration also reached the level of presidential politics. Former Florida Gov. Jeb Bush made headlines by charting a middle course when he suggested a limited number of Christian refugees could be permissible. 
"There are a lot of Christians in Syria that have no place now," Bush told CNN on Sunday. "They'll be either executed or imprisoned, either by Assad or by ISIS. And I think we should have — we should focus our efforts as it relates to the Christians that are being slaughtered."
Leading GOP presidential candidate Donald Trump has called for halting the resettlement, pointing out last month that a majority of the refugees are men. Today, nearly 70% of "sea arrivals," or Syrian refugees actually making the voyage across the Mediterranean to Europe, are men, though adult men make up a minority of the number of refugees overall, according to the Tampa Bay Times' fact-checking initiative PolitiFact. Other candidates like Marco Rubio have lined up to support the restrictions. 
The counterpoint: The move to close out Syrian refugees over the Paris attacks was criticized by those who argued it was premature. According to a Guardian analysis, it was still unclear whether the passport in question actually belonged to the gunman; it was possible it could have been that of a victim. Indeed, an Egyptian passport also found at the stadium that originally raised eyebrows was later determined to belong to a critically injured victim. 
In addition, since most of the refugees are fleeing ISIS strongholds in Syria and Iraq, it's unlikely that they would be inclined to offer much help to the organization in their adopted homelands. According to at least one Middle East expert, turning to rising anti-refugee and anti-Muslim sentiment only makes the problems worse.
"You hear Republicans saying clash of civilizations and civilizational war, and they don't realize that's exactly what ISIS wants us to be saying," Shadi Hamid, a senior fellow at the Brookings Institution and an author on Islamist politics, told the World Post. "It's remarkable to me, and just shows a very basic lack of understanding of the threat that we face."   
Online pro- and anti-Syrian resettlement activists took their convictions to Twitter.
The din, however, has so far not caused the U.S. government to change course with regard to its planned program. Speaking to Fox News on Sunday, White House Deputy National Security Adviser Ben Rhodes said the White House still plans to accept 10,000 Syrian refugees by the end of this year. "We had very robust vetting procedures for those refugees," he said.
On Sunday's Meet the Press, Rhodes furthered his argument: "We don't want to be complicit with a program that could bring terrorists into the United States ... we're also dealing with people who've suffered the horrors of war — women and children, orphans. We can't just shut our doors to those people."
With international scrutiny bearing down on the Syrian refugees like never before, the issue will only likely intensify in the coming months. 
Nov. 18, 2015, 4:10 p.m. Eastern: This article has been updated to reflect the more recent tally of governors who have released statements related to accepting Syrian refugees.