Anonymous Just Declared War on ISIS in a Chilling Video Online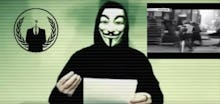 Anonymous, the controversial hacking group known for exposing Chinese cybersecurity attacks on the United States, is officially waging a war against ISIS. The hacktivists posted a video to YouTube Saturday after the Islamic State group took responsibility for Friday's deadly terror attacks in Paris, which left 129 dead and hundreds of others wounded.
"Anonymous from all over the world will hunt you down," a spokesperson announces in the video, wearing a Guy Fawkes that's become a symbol of the group's subversive ideology. "You should know that we will find you and we will not let you go. We will launch the biggest operation ever against you."
"Expect massive cyberattacks. War is declared. Get prepared."
The dark warning follows a night of chaos in terror in the heart of Paris, where eight suicide bombers opened fire at six separate locations throughout the city of lights on Friday night, detonating outside of the Stade de France, taking at least 100 hostages at the Bataclan concert hall and killing Parisians who were dining in restaurants and bars.
The Islamic state has since taken responsibility for the attacks in an official announcement, writing, "Eight brothers, wrapped in explosive belts and armed with machine rifles, targeted sites that were accurately chosen in the heart of the capital of France. Let France and those who walk in its path know that they will remain on the top of the list of targets of the Islamic State."
In the video, Anonymous says it will work tirelessly to take down any sites promoting propaganda from the Islamic State, and use its influence online to crush ISIS from gaining any more power. 
It's not the first time the hacktivists have declared war on ISIS. In 2014, a faction of Anonymous declared "full-scale cyberwar" against the Islamic State. In March, Anonymous revealed over 9,000 Twitter accounts believed to be owned by the Islamic State in an effort to have them removed from the site back in March. CrtlSec, a group that originated as a faction of Anonymous, has been targeting pro-ISIS Twitter accounts over the past year. 
Most recently, the group was criticized for its tenuous connection with #OpKKK, a campaign to release the identities of Ku Klux Klan members in the U.S. It's unclear whether the information released was credible.
Anonymous says this will be the largest operation it has conducted against ISIS to date. "The French people are stronger than you," the man says in the video. "And will come out of this atrocity even stronger."
Catch up on the news that matters in 5 minutes or less by signing up for our daily email news briefing.