France Bombs Raqqa — Here's What We Know About ISIS Base Airstrike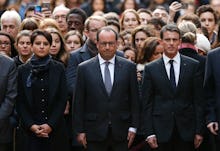 In response to a series of terrorist attacks in Paris on Friday carried out by the Islamic State group, also known as ISIS, France on Sunday launched airstrikes in Raqqa, Syria — a city the extremist group considers its seat of power, CNN reported.
The 12-aircraft, 20-bomb airstrike on Sunday struck several of the group's alleged headquarters, including a command center, recruitment center, a storage base and training camp, a representative for France's defense minister said, CNN reported.
In an announcement the day after a series of terrorist attacks killed at least 129 and wounded hundreds more in Paris, ISIS claimed responsibility for the systematic attack. "Eight brothers, wrapped in explosive belts and armed with machine rifles, targeted sites that were accurately chosen in the heart of the capital of France," ISIS said, according to the New York Times. "Let France and those who walk in its path know that they will remain on the top of the list of targets of the Islamic State." 
French president François Hollande called the massacre an "act of war" before France bombed Raqqa on Sunday.
In response to the airstrikes, ISIS released a video on Monday threatening attacks on all countries involved — specifically calling out Washington, D.C. "We say to the states that take part in the crusader campaign that, by God, you will have a day, God willing, like France's and by God, as we struck France in the center of its abode in Paris, then we swear that we will strike America at its center in Washington," a man allegedly said in the video.