ISIS Threatens Attack on US, Washington, D.C. in New Video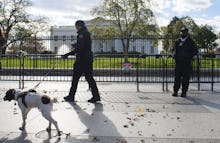 In a video released Monday, the Islamic State group threatened to carry out an attack in Washington, D.C. that mirrors its Friday attacks on Paris that killed at least 129 people and injured hundreds more. 
The video threatened countries taking part in France's air strikes launched over the group's headquarters in Raqqa, Syria, which began Sunday. "We say to the states that take part in the crusader campaign that, by God, you will have a day, God willing, like France's and by God, as we struck France in the center of its abode in Paris, then we swear that we will strike America at its center in Washington," the man said in the video, according to Reuters.
The video was posted to a website used by the group, and begins with footage from Friday, that involved a shooting, explosions and a hostage situation. 
According to Reuters, the man, identified through subtitles as "Al Ghareeb the Algerian," made explicitly violent declarations: "I say to the European countries that we are coming, coming with booby traps and explosives, coming with explosive belts and [gun] silencers and you will be unable to stop us because today we are much stronger than before," he said.
The video's legitimacy has not been verified, according to Reuters. It is not clear who witnessed the video. 
On Sunday, Ben Rhodes, deputy national security adviser for strategic communication for President Barack Obama, said it's clear the Islamic State group has "aspirations" to attack the U.S. on its own soil. "Our determination is there's not a specific, credible threat to the homeland at this time," he said in an interview on ABC's This Week with George Stephanopoulos. "But we're going to be very vigilant because we know the Islamic State has the aspirations to attack the United States as well as our European and other allies and partners." 
While Rhodes acknowledged the terrorist group's desire to carry out a massacre on U.S. soil, he said its capability is weak, pointing out that while thousands of Islamic State fighters have traveled to Syria and returned to Europe, as of March only 40 have done so in the United States, according to the Director of National Intelligence James Clapper, Time reported.