This Frenchwoman Is Going Viral for Choosing Not to Filter Her Facebook Photo for Paris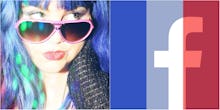 In the wake of the recent tragedy in Paris, many Facebook users have shown solidarity with the country by running their profile pictures through Facebook's custom French flag filter.
While many see this gesture as a tiny yet poignant display of support for a country in mourning, some have chosen not to participate. Charlotte Farhan, a United Kingdom-based artist and editor who describes herself as "French and from Paris," published a brief Facebook note Saturday telling her followers why.
"If I did this for every attack in the world, I would have to change my profile everyday several times a day," she wrote. "My heart is with the world, no borders, no hierarchy, I hold every human's life with value who is attacked by extremist beliefs whether they are based on religion, prejudice or profit!"
Farhan's note struck a similar tone to a prose poem by blogger Karuna Ezara Parikh, which garnered a lot of attention on Instagram over the weekend. In her post, Parikh urged followers, "Say a prayer for Paris by all means, but pray more, for a world that does not have a prayer."
Others have also been making a similar argument on social media via the hashtag #CertainLivesMatter. "The Paris tragedy while, still being horrible and devastating, is another example of how only #certainlivesmatter," one Twitter user wrote. 
Needless to say, the act of filtering a profile picture with the French flag to support those mourning a terrible tragedy doesn't automatically mean one is blind to the rest of the tragedy in the world. Still, people are voicing concern that Facebook didn't at least offer an option to filter profile pictures with the flag of Lebanon, for instance, after the recent suicide bombings in Beirut.
While Facebook hasn't yet said anything about the filter options, Mark Zuckerberg did respond to people's questions as to why the site only activated their "Safety Check" feature during the Paris attacks and not during the Beirut attacks. 
"Until yesterday, our policy was only to activate Safety Check for natural disasters. We just changed this and now plan to activate Safety Check for more human disasters going forward as well," he wrote in a comment on his Facebook page. "Thank you to everyone who has reached out with questions and concerns about this. You are right that there are many other important conflicts in the world. We care about all people equally, and we will work hard to help people suffering in as many of these situations as we can."
At the end of the day, of course, deciding whether or not to change a Facebook profile picture is an act of fairly little consequence; all that matters is that people are expressing support for victims of the attacks, in whatever way they choose. Still, Farhan's note is a reminder of the unfortunate fact that suffering in the world doesn't happen in just one country at a time.