Paris Attack Suspect Salah Abdeslam: Manhunt and What We Know About Alleged ISIS Terrorist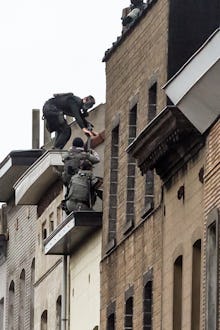 French officials are on a manhunt for Salah Abdeslam, a Brussels man and suspected eighth attacker in the Islamic State group's massacre in Paris on Friday, after police initially stopped the 26-year-old but let him go, according to the BBC. 
Abdeslam, whose brother was one of the suicide bombers in Friday's attacks, was based in the Belgian capital, the Huffington Post reported. On Monday, authorities raided the Brussels neighborhood of Molenbeek, considered a hotbed of extremist activity, but were unable to locate Abdeslam, according to the New York Times. An international arrest warrant has been issued for him. 
More than 20 arrests have been made since the Islamic State conducted a series of terrorist attacks in Paris on Friday that left at least 129 dead and hundreds more wounded. French officials have named Abdelhamid Abaaoud as the alleged mastermind behind the attacks.
Since French President François Hollande declared a state of emergency in the wake of Friday's attacks, police are allowed to conduct raids without warrants, the New York Times reported. Interior Minister Bernard Cazeneuve said forces have carried out 168 raids since then, arresting 23 suspects of the attack and confiscated 19 weapons and computers while 104 people have been placed under house arrest. 
Parisians have come together and nations have shown solidarity with France after a series of attacks in the city, including shootings, bombs and a hostage situation. Hollande declared the attack an "act of war" before ordering the bombing of ISIS centers in Raqqa, Syria, on Sunday.