Barbie Laughs in the Face of Gender Norms and Casts a Boy in Its Latest Commercial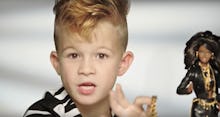 For decades, Barbie commercials have all been the same: a group of girls giggling while playing with their favorite Mattel creations. But this year, the brand is already mixing things up with a new commercial for the wildly popular, already sold-out Moschino Barbie. 
For the first time ever, it seems, this Barbie commercial stars a boy playing alongside two girls. The 30-second advertisement features the children posing the limited edition doll (who's decked out in edgy fashions from designer Moschino) and playing with her accessories. 
"Moschino Barbie is so fierce," the boy says before putting the doll's purse on her leather jacket-covered shoulder. 
After we're shown the two dolls' hip new accessories, such as a purse that looks like a leather jacket and a closet totally stocked with black leather, the boy puts a (pretty archaic-looking) itty bitty cellphone up to one of the dolls' ears and says, "It's for you, Moschino Barbie." Then he gives us a wink 
So far, the advertisement has garnered more than 89,000 views on YouTube. And people seem to be responding positively to the ad's new star, with comments like "This almost made me cry! I used to play with my sister's Barbies and felt such shame afterward. I'm so glad we can just let kids be kids. Thank you for this! Boys like dolls too!" and "This is a wonderful ad, very nice to see gender race and sexual orientation equality in this advert. We're finally moving into 2015."
The ad comes in the midst of a Barbie image overhaul, with the brand making an effort to make the traditional doll a bit more progressive. In September, for instance, Mattel debuted a Barbie styled with pop star Zendaya's dreadlocks. This past summer, Mattel designed a Barbie with flat feet so she could finally wear flat shoes, after wearing predominantly heels for decades.
Mattel also released a video, "Imagine the Possibilities," which depicted young girls in everyday, "adult" professions, such as being a doctor or leading a classroom as a professor. The ad was meant to show that Barbie can be a positive influence on young girls, ending with the sentiment, "When a girl plays with Barbie, she imagines everything she can become."
There were, of course, people who found fault with the new Moschino ad, given Barbie's long history of unrealistic, white-washed beauty expectations. But it's clear that Mattel's Barbie is headed in the right direction for 2015. 
You can watch the entire advertisement below: