Is France Going to War With ISIS? Latest News and Updates After Paris Terrorist Attacks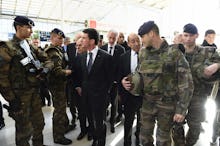 France is on the offensive following Friday's deadly terror attacks in the heart of Paris carried out by the Islamic State group, also known as ISIS or Daesh. French President François Hollande told media Friday night "our fight will be merciless, because these terrorists that are capable of such atrocities need to know that they will be confronted by a France that is determined, unified and together." The French military unleashed a series of airstrikes on major ISIS headquarters in Raqqa, Syria, on Sunday. 
Although France hasn't announced a direct, French-led war against ISIS, Hollande promised his country would not let up in its fight against the people behind Friday's attacks, and vowed the nation is at war with terrorism in its entirety. Many have called for ramped-up military action in Syria, where an ongoing civil war between the government and rebel groups has allowed extremist groups like ISIS to thrive.
"France is at war," President Hollande told Parliament Monday. "But we're not engaged in a war of civilisations, because these assassins do not represent any. We are in a war against jihadist terrorism which is threatening the whole world."
"France will not let itself be overawed," Hollande said Friday. He called the attacks an "abomination" and a "barbaric act."
As Mic previously reported, France could essentially declare an official war on ISIS using NATO's Article Five. The collective action found in NATO's Founding Treaty, last used immediately following the terror attacks in New York City on Sept. 11, 2001, requires each country in NATO to consider an attack on one member country "an attack against them all," as well as follow the country's orders to defend them against those responsible, "including the use of armed force, to restore and maintain the security of the North Atlantic area."
Other nations and their leaders are standing with France in the days following the attacks in several locations in Paris carried out by groups connected to ISIS. "This is an attack on all of humanity and the universal values we share," President Barack Obama said Friday immediately after the attacks, offering the United States' full support. "We stand prepared and ready to provide whatever assistance the people of France need to respond. This is a heartbreaking situation, and obviously those of us here in the United States know what it's like and we've gone through these kinds of episodes ourselves." 
"Faced with fear, there is a nation who knows how to defend itself, mobilize its forces and, once again, vanquish the terrorists," Hollande tweeted Friday night.
Correction: Nov. 16, 2015