What We Know About Belgian Abdelhamid Abaaoud, Alleged Mastermind of ISIS Paris Attacks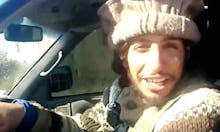 French officials have named 27-year-old Belgian Abdelhamid Abaaoud as the alleged mastermind behind the series of terrorist attacks conducted by the Islamic State group, or ISIS, in Paris on Friday that left at least 129 dead and hundreds more injured, the Guardian reported.
A French Jihadi told officials this summer that Abaaoud had ordered him to attack a "concert hall," the Guardian reported. The Bataclan concert hall, where at least 80 were killed in a hostage situation, was one of several locations throughout Paris that were targeted during Friday's attack. Other targets included several bars and restaurants and the Stade de France, where a France vs. Germany soccer game was going on. 
Abaaoud is believed to be one of ISIS' "most active operators," according to Reuters. Abaaoud was allegedly involved in unsuccessful attacks on a train headed from Amsterdam to Paris and on a church in the French capital earlier this year, USA Today reported. 
French authorities have vowed to take action against the terrorist group for the attacks. On Sunday, France led airstrikes against the Syrian city of Raqqa, an ISIS stronghold. 
"It's just a start, these operations are going to continue," French interior minister Bernard Cazeneuve said, according to the Guardian. "The response of the Republic will be huge and total. He who targets the Republic will find the Republic will catch him, will be implacable."
Nov. 16, 2015, 10:35 a.m. Eastern: This story has been updated.