Los Angeles Auto Show 2015: Schedule, Cars, How to Get Tickets and Online Live Stream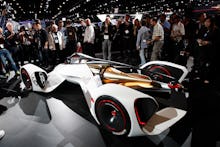 The 2015 Los Angeles Auto Show kicks off Friday morning for the public at the LA Convention Center and will be open through Nov. 29. The annual show houses the latest unveilings from car companies around the world as well as breakthroughs in the newest smart car technology, and the automobile industry at large.
Tickets cost $12 for the events on Nov. 23-25, and $15 for entry Nov. 20-22 and Nov. 27-29. Tickets can be purchased through the auto show's official site. Fifty of the show's car debuts will also stream live via CNET.
Among the cars being unveiled at this year's show are a brand-new GMC Denali, Jeep Grand Cherokee Night and the Jeep Wrangler Backcountry, the Detroit News reports. 
Other debuts will include the Alfa Romeo Giulia and the Fiat 124 Spider, a secret convertible project about which the company has been tight-lipped, according to Forbes. LA is among the first in a series of auto shows across the U.S. this year that will show off the hottest new cars available for the 2016-17 season. 
The 2015 Los Angeles auto show opens its doors to the public Friday and Saturday from 9 a.m. to 10 p.m. Pacific, with the box office opening an hour before, at 8 a.m. The convention will be open from 9 a.m. to 9 p.m. Sunday, and 10 a.m. to 9 p.m. Monday and Tuesday. The annual show is also offering the options for attendees to plan their visit in advance by purchasing tour packages online. Guided tours last 90 minutes and cost $65 for adults. Check out the event page for the latest information in tours, ticket options, location and more. 
Watch the live stream, available Nov. 20-29, here.