Justin Bieber Pulls a Beyoncé and Releases a Video for Every Song on 'Purpose'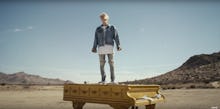 Justin Bieber is pulling out all the stops to make Purpose, his latest album, which was released Friday, the boldest statement of his new musical direction it can be. After taking over The Ellen DeGeneres Show for an entire week and announcing that he would be riding around in Lyft cars to surprise fans, he's turned his promo up several more notches by pulling a Beyoncé. 
Saturday he released a video for every song on Purpose, just as the Queen did for her self-titled surprise album back in December 2013. Bieber dropped one video every hour, starting with the album's opener "Mark My Words," which features a spoken-word intro talking about his battle trying to prevent fame from consuming him.
"I felt like I lost my purpose for a while, and now I feel like I've found my purpose," Bieber says during the opening of "Mark My Words." "I just want to bring that hope to people, that light ... I just want people to see that there is hope, and there is a light at the end of the tunnel, and the best is yet to come ahead of you, and not to dwell in the spot that you're in and know that, hey, if Justin did it, that I can do it."
Together all the videos create a 45-minute long film Purpose: The Movement, which Bieber premiered Friday at Los Angeles' Staples Center. The film includes an alternate video to his original "What Do You Mean?" video, which, according to BuzzFeed, functions as a sequel to the colorful "Sorry" dance video Bieber released in late October.
The videos may prove to be the tipping point in his battle to outdo similar boy-pop heroes One Direction in first week sales and streams. Their album Made in the A.M. also dropped Friday, to only slightly more sunny reviews. Made in the A.M. has a 66 to Purpose's 64 on Metacritic's cumulative critic ratings, at time of writing. Industry forecasters say the race for Billboard's No. 1 album is too close to call. They'll only have one week to battle, too, as Adele is on her way to reclaim her throne.
Watch all the Purpose videos below.