Adele Previews New Song "When We Were Young" From New Album '25'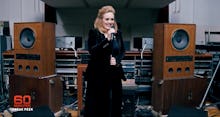 Adele previewed a new song, "When We Were Young," from her upcoming album 25 on Monday — and it may give her latest record-breaking single, "Hello," a run for its money. 
The singer-songwriter performed the single during an interview with 60 Minutes Australia that will air Sunday after the Friday release of 25. The show tweeted a preview of the performance in a segment on Monday. 
The minute-long preview showcases Adele's surreal vocal chops — including one especially jaw-dropping note — and lyrical prowess. 
"Let me photograph you in this light, in case it is the last time/ That we might be exactly like we were before we realized/ We're sad of getting old, it made us restless," she belts during the in-studio performance. "Oh I'm so mad I'm getting old, it makes me reckless/ It was just like a movie, just like a song/ When we were young."
Adele may have been crowned de facto queen of the Internet when the simultaneous release of the track and music video for "Hello," her first single in three years, caught fire on social media. She allegedly recently turned down a duet with megastar Beyoncé, and recent reports suggest the artist may keep her album off the content-streaming service Spotify when it drops on Friday, unless the service agrees to restrict non-paying users from streaming the record.
In Monday's other staggering Adele news, her previous studio album, 21, overtook The Sound of Music motion picture soundtrack and Michael Jackson's Thrilller for the top album on Billboard's Greatest of All Time.
Correction: Nov. 16, 2015