When Is Black Friday 2015? Here Are the Dates and Best Times to Shop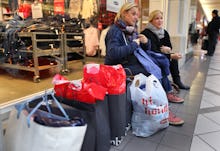 Black Friday, the ultimate bargain shopper's holiday the day after Thanksgiving, will officially commence Nov. 27 this year, but in-store bargains are already on their way. 
Amazon, Wal-Mart, JC Penney, Kohl's and Target are some of the many retail giants that offer deals upon deals for Black Friday each year, with many sales starting early on Thanksgiving and additional online sales offered on Cyber Monday. Given the mad crowd that flocks to stores and e-commerce sites on this four-day, weekendlong bargain holiday, it's key for shoppers to know when to shop to avoid crowds and ensure they take advantage of deals before they sell out. 
Here are some tips for when to shop Black Friday:
Stores opening on Thanksgiving: Target, Wal-Mart, Best Buy and Macy's will all open their doors for Black Friday sales at 6 p.m. Eastern on Thanksgiving and remain open through the next day. While this gives eager early-bird shoppers a head start at some of their most advertised deals, it can also be a disadvantage for those who'd prefer to spend Thanksgiving with friends and family, stuffing their face.
Stores waiting until Black Friday: Some stores have opted out of the early-bird Thanksgiving, allowing shoppers to enjoy their Thanksgiving with peace of mind knowing fresh deals await them in the morning. Lululemon, Zara, Costco, Urban Outfitters, H&M and Nordstrom are just some of the stores that will open at 6 a.m. on Black Friday. 
Wal-Mart gets rid of door busters: The discount retailer may be doing Black Friday shoppers a service this year by getting rid of door busters, deals that are available for a limited-time upon opening.
Wal-Mart will open its doors for Black Friday deals at 6 p.m. on Thanksgiving — and from then on, all deals are created equal. The same deals will be offered from that time through Black Friday both online and in-store, USA Today reports. 
Thanksgiving vs. Black Friday vs. Cyber Monday: It's difficult to determine when the best deals will be available given that the most heavily-advertised deals are offered on Thanksgiving, the day after on Black Friday and the e-commerce bargain holiday Cyber Monday, taking place Nov. 30 this year.
Deal News analyzed this year's Black Friday deals to determine which of these three days to find the best deals.
Shoppers should find the best deals for Android phones, cameras, TVs, iPads, laptops, video games and kitchen hardware on Thanksgiving, according to the report, while Black Friday should be the best bet for headphones, iPhones and speakers. Finally, Deal News estimates that shoppers will find the best off shopping for toys, , clothing, shoes and beauty on Cyber Monday. 
E-commerce sites aren't the only ones who partake in Cyber Monday. Last year, Entertainment News listed deals from popular clothing site ASOS as well as Bloomingdale's, Bliss, Club Monaco and Kate Spade on its extensive list of the best Cyber Monday deals.