Donald Trump Would "Strongly Consider" Shutting Down Mosques After Paris Attacks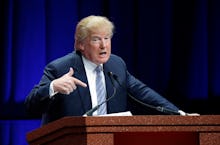 On Monday, Republican presidential front-runner and billionaire real estate developer Donald Trump offered his analysis on what to do in the wake of the deadly terrorist attacks that killed at least 129 people and wounded 350 others in Paris on Friday.
According to Trump, his future presidency would spy on, and possibly shut down, mosques.
"You're going to have to watch and study the mosques, because a lot of talk is going on at the mosques," he told MSNBC, before endorsing a controversial but legal surveillance program in New York that targeted Muslim places of worship. "We had tremendous surveillance going on in and around the mosques of New York City, and right now that's been totally cut out."
Trump then fielded a question about what to do about mosques that had "very specific ties to radical" ideology.
"Well, I would hate to do it but it's something you're going to have to strongly consider," Trump told MSNBC. "Some of the ideas, some of the hatred, the absolute hatred is coming from these areas. ... It's something that many people — not me — it's something that many people are considering and many people are going to do."
"There's already hatred," he continued. "The hatred is incredible. It's embedded. The hatred is beyond belief. The hatred is greater than anybody understands."
"It's not like, what, you think they think we're great people?" Trump concluded. "I know so many people, Muslims, who such are unbelievably great people, and they're being so badly tarnished by what's happening now, it's a shame."
Trump's viewpoint is not necessarily an outlier in the aftermath of the attacks. Over the weekend, French Interior Minister Bernard Cazeneuve said on French TV that his government should move towards the "dissolution of mosques where hate is preached," according to another MSNBC report.
Others have criticized such an action, including Rep. Peter King (R-N.Y.), who typically sides with conservative views on issues relating to intelligence and law enforcement.
In an interview in late October, King told Fox News, "Donald Trump is talking before he knows what he's talking about. Listen, I have been very critical of people in the Muslim community. The fact is you can't be going around shutting down mosques. ... We do have freedom of religion."