These Recycled PCs Are Giving Kids Access to Education in a Whole New Way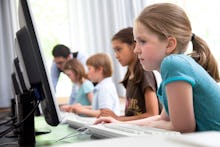 Two years ago, a Minneapolis social worker named Gwendolene decided that her daughter would not be able to fulfill her dream of going to college until they had a computer for her to use at home. Gwendolene, a single mother, spent her days helping local residents with housing, finances and access to technology, but when she went home at night, she felt the strain of making ends meet for herself and her daughter, Tequila. PCs for People understood how she felt.
"Computers have become an extremely integral part of our everyday life," Madeline Tate, office manager for PCs for People, told Mic. "Attempting to apply for a job or complete schoolwork without access to a computer is pretty near impossible."
According to the 2013 census, 78.5% of Americans have a computer in their homes. For those who don't, life can be tough, and local nonprofits like PCs for People are a way to plug that gap. Because of the rapid technological advances that happen with each new generation of PC, most businesses swap out their computers every three years, after which the PCs are often sent to a recycler and broken down for parts.
"A computer still has a lot of life left in it at that point and can provide a huge impact in the lives of families who, without our organization, would not have this opportunity," Tate said.
Gwendolene got her computer from PCs for People; she was back two years later to secure a laptop for her daughter, who was about to start college. "I really needed [a laptop] for taking notes in class," Tequila told PCs for People, "doing research, writing papers."
"She's doing it for all of us," Gwendolene said. "If she achieves ... her little brother has someone to look up to."
A securely wiped, refurbished PC is a blank canvas.
Tequila got the computer she was hoping for, a PC laptop, and went away happy. She's just one of the success stories collected by PCs for People. The organization has been distributing donated computers throughout Minnesota since 1998, and it understands that a PC can be a powerful instrument of change. They are one of the dozens of nonprofits across the country that accept donated PCs and distribute them to people in need, ensuring that every American has access to digital technology.
The nonprofit workers Mic spoke with described PCs as easy to use and easy to customize, making them perfect for this kind of recycling. A securely wiped, refurbished PC is a blank canvas, waiting for someone like Gwendolene or her daughter to come along and use it to express themselves.
"PCs are able to be refurbished readily, and are a practical inexpensive solution for many families," Nancy Jo Craig of the Capital Area Corporate Recycling Council, based in Louisiana, told Mic. Her organization distributes electronic equipment across Louisiana.
Like PCs for People, the Capital Area Corporate Recycling Council is a regional nonprofit deeply rooted in its local community — a sign that this kind of recycling effort is best accomplished by people who understand their neighbors' needs.
"Although many children have computers at school available to them, too many do not have home computers," Craig said. "This means a trip to the library to complete assignments. Many families do not have transportation in the evenings, so these children fall behind."
According to a 2011 survey by Child Trends, while 97% of children whose parents make more than $75,000 a year have a computer at home, that number falls to 66% for families making less than $20,000. PCs are essential for life in the digital age, and it will be hard to close that achievement gap without one.
That's a phenomenon that John German noticed as early as 1984 when he founded Nonprofit Computing, a member of the United Nations Global Compact that arranges donations of computers in the United States and worldwide.
"Being able to use information and communication technologies is fundamental to life, work, citizenship and social relations — pretty much every aspect of modern life — and people expect that everyone uses them," German told Mic. "Just try telling someone you don't have email or a mobile phone."
Some people don't upgrade their PCs because they don't know what to do with their used models. While many people may want to donate their slightly worn PC, they might not know where to do so. That's where Nonprofit Computing and similar organizations come in. It's as simple as finding an organization in your city and dropping off the computer, either at their office or a pre-arranged drop-off site like a school or office supply store. They wipe the computer according to federal guidelines and prepare the PC for its next owner.
"Computers are widely available for donation," German said. "Organizations that need computers are pretty much everywhere, but generally they don't know each other, so matching up what donors have with what organizations need is a vitally important function, which we provide."
Founded in New York City, Nonprofit Computing has strong ties to the local community, supporting organizations like the Harlem Restoration Project, whose students earn free computers by completing coursework. But they also arrange donations to people in need around the globe, delivering shipping containers packed with PCs to worthy groups such as an organization in Zambia dedicated to women's empowerment.
"It has been said that tools are amplifiers," German said. "Whatever you want to do, the right tools can help you do it faster, better, less expensively — and that the computer is the greatest tool ever invented. And it's only going to get more powerful, more versatile, more useful."
Support those in need and upgrade your PC today.