The Latest Black Friday 2015 Sales Ads for Wal-Mart, Target, Toys R Us and More Are Here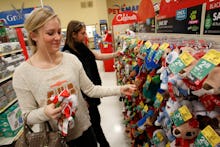 Stores across the United States are gearing up for Black Friday, with nationwide deals, special discounts and extended hours on Thanksgiving and Friday, Nov. 27. As major chains and retail giants begin to announce their biggest deals, ads are rolling out for the highly anticipated annual tradition that leaves participating stores nearly empty while providing a boost to the economy each year. 
Wal-Mart, Target, JC Penney, Kmart and numerous other chains have already unveiled their yearly Black Friday deals, promising major savings across a variety of products, from home decorations to electronics and technology. 
Target also announced "10 days of deals" surrounding Black Friday, as well as some major discounts for shoppers visiting the store on Thanksgiving and the following Friday morning. As Mic previously reported, a number of stores will shut down for Thanksgiving and remain closed Thursday night instead of participating in the annual tradition.
Check out some of the latest Black Friday sales ads.
Wal-Mart
Target
Best Buy
Toys R Us
Sears
Kmart