Here's a Map of the States Trying to Reject Syrian Refugees After Paris Terror Attacks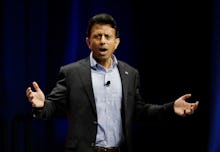 At least 21 governors from across the United States announced Monday they would seek to reject any Syrian refugees from seeking shelter within their borders following the deadly terror attacks in Paris Friday night. Currently, 12 million Syrians have fled the country, according to WorldVision.org, including 4 million refugees. Some 700,000 of those refugees left the country in 2015.
Secretary of State John Kerry told Congress earlier this year America's plan to accept refugees involves "super vetting, I mean an extraordinarily level of vetting," according to BuzzFeed. He said the FBI would be involved in the process of accepting and denying refugees relocation status into the U.S. Kerry added if the FBI wasn't 100% confident about a refugee's status, he was "quite confident that people aren't going to be allowed in."
As of Monday evening, the states whose governors have said they would not oppose accepting Syrian refugees were Delaware, Connecticut, Pennsylvania, Washington, Colorado, Oklahoma, Kentucky, Virginia, Alaska and South Carolina. 
The U.S. actually has some of the strictest measures in place to vet all incoming refugees, especially from Syria. 
Still, that hasn't stopped governors from announcing plans to reject Syrians from entering their borders. 
"I just signed an executive order instructing state agencies to take all available steps to stop the relocation of Syrian refugees to LA," Republican presidential candidate and Louisiana Gov. Bobby Jindal tweeted Monday. 
Louisiana joins a growing list of states whose governors are trying to block the relocation of refugees, including Alaska, North Carolina, Iowa, Alabama, Arkansas, Florida, Illinois, Indiana, Louisiana, Massachusetts, Michigan, Mississippi, Ohio, Oklahoma, Texas, Wisconsin, Wyoming and New Hampshire. 
Meanwhile, none of those governors actually hold the power to bar Syrian refugees from being brought to their states, according to the Refugee Act of 1980. The legislation specifically states the president maintains the power and responsibility of admitting refugees, with that authority being even more greatly extended to the commander in chief during an "unforeseen emergency refugee situation." 
On Monday, President Barack Obama denounced the immediate rejection of Syrian refugees following Friday's attacks in Paris. "That's not American," Obama said, focusing on the governors who immediately came out against all refugees from the war-stricken country of Syria. "That's not who we are. We do not have religious tests to our compassion."
Former neurosurgeon Ben Carson, one of the leading Republican presidential hopefuls, released a petition to Congress to stop the White House administration's effort to relocate 10,000 Syrian refugees to the states.