Charlie Sheen Reveals He Is HIV-Positive on 'Today' Show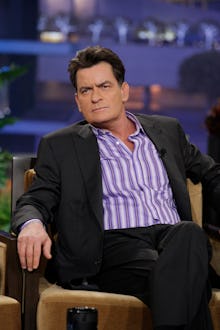 Charlie Sheen, a film and TV star known for his controversial antics, confirmed his HIV-positive status in an interview with Matt Lauer on Tuesday's Today. Reports the 50-year-old actor had been dealing with the illness had previously surfaced.
Howard Bragman, a publicist and "crisis manager," told People the actor originally approached him to discuss how to deal with announcing his illness to fans around the world. "I've known about this a long time, it's not a surprise to me," Bragman told People. "I feel very sorry for his pain. And I hope it's used as a teachable moment for the world. This is a disease that can affect anyone."
"I am HIV-positive," Sheen told Matt Lauer on Tuesday. "I have to put a stop to this onsalught, this barrage of attacks of sub-truths." The former Two and a Half Men star told Lauer he's been diagnosed with HIV for four years, and has paid a handful of his closest confidants large sums of money, to the point where he is "depleted," Sheen told Today.
Sheen also said his lifestyle was out of control when he was at his worst a few years ago, and "was so depressed by the position I was in. I was drinking way too much." Sheen also told Lauer he has engaged in unprotected sex since being diagnosed with the virus, but his partners were under the supervision and provided care from his doctor. 
However, when asked if Sheen was aware how he contracted the virus, he replied, "sitting here today, not entirely, no." Sheen did say, though, he felt a responsibility to open up about his illness to help remove the stigma that comes along with it. 
"I have a responsibility now to better myself and help a lot of other people," Sheen told Lauer. "And hopefully, with what we're doing today, others will come forward and say, 'Thanks, Charlie, thanks for kicking the door open.'"
Update: Nov. 17, 2015, 5:43 p.m. Eastern: This article has been updated.