Hollywood's Ageism Is Most Obvious in One Kind of Character: Moms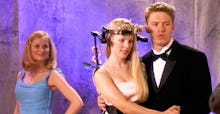 With roles in high-profile films like Tomorrowland and Jurassic World, Judy Greer may have finally shaken off the "best friend in a rom-com" phase of her career. That's the good news. The bad news is she's now being typecast as another staple role for actresses of a certain age: the mom. In true Hollywood form, that certain age remains improbably low. Greer, who only just turned 40 this past summer, has already played mom to Britt Robertson (25), Nick Robinson (20), and Olivia Crocicchia (19) — all in the past year.
Age disparity is often talked about in terms of romantic interests, but worse than being cast as a romantic lead opposite someone two decades your senior is being cast as a parent to someone barely 20 years your junior. Yet it happens more often that you'd think.
In 2015 alone, Cate Blanchett has played the mother in Cinderella to Downton Abbey's Sophie McShera — an actress barely 16 years younger than the Oscar-winning actress. In San Andreas, Carla Gugino played mom to Alexandra Daddario. Their age difference: 15 years. In the buzzy film Fifty Shades of Grey, Jennifer Ehle, 46, got to play mother to Hollywood baby Dakota Johnson, 26. For comparison, Johnson's own mother, Melanie Griffith, is 13 years older than Ehle.
Even from a statistical point of view, these numbers skew younger than average. From data gathered in 2013, the mean age at first birth in the United States is 26. In some European countries, that number can go as high as 29. Furthermore, for the past four decades, women, on average, have been having first babies later in life than before. Data from 2012 confirms there are more than nine times as many first births to women over 35 and older than 40 years ago.
So when Blanchett's mother character gave birth to her daughter, she was a full decade younger than the national average. Gugino and Greer's characters in San Andreas and Tomorrowland would have been 11 years younger.
Not so in Hollywood. Emma Thompson, for example, has been vocal about the types of roles she was turned down in the '90s for their implicit sexism. The intervening years would prove to be no different. In a U.K. interview in 2012, she said she had been offered the role of Bradley Cooper's mother, an actor 16 years younger than her.
This is nothing new. Perhaps the most often cited example is that of Sally Field; after winning the second of her Oscars for Places in the Heart, Field went on to star in 1988's Punchline, in which she played Tom Hanks' love interest. By 1994, she was playing his ailing mother in Forrest Gump. It's as striking an example as one is likely to find. She wasn't new to playing mom, either: She played Elisabeth Shue's mother in Soapdish, and Julia Roberts' mother in Steel Magnolias when she was an average 19 years older than her on-screen daughters.
Decades later, she would be cast as Maura Tierney's and Calista Flockhart's mother in ER and Brothers and Sisters, respectively. The average age difference in these later instances is still a baffling 18 years. It's no surprise Field is ready to play other roles. "I'm often offered things where I'm somebody's mother. I just don't want to play that if I don't have to do it for some reason," she said earlier this year.
The easiest way of accounting for these at times implausible close age gaps is the tendency of Hollywood to pair older actors with younger actresses. This, compounded with the also common practice of hiring 20-somethings to play teenagers, results in egregious examples of actresses being close to contemporaries with their make-believe children. Think Amy Poehler and Rachel McAdams in Mean Girls (seven years apart), Toni Collette and Paul Dano in Little Miss Sunshine (12 years apart) and, more recently, Eva Green and Shailene Woodley in White Bird in a Blizzard (11 years apart).
This year, calls for gender equality in the film industry have been sounded more urgently than ever. These examples of improbably young mothers serve as timely reminders of the rampant ageism that is all too common in Hollywood.