Orthopedic Shoes or Just Trendy Shoes? These Days, It's Basically Impossible to Tell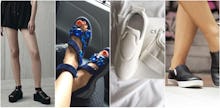 The ugly shoe is getting uglier. So ugly, in fact, it is positively orthopedic.
Sensible, flat and decidedly unstylish "grandma shoe" styles, a catwalk staple since 2013, are still nowhere close to falling out of fashion. Now the line between the shoes you see on the runway and the kind of "comfort" shoes your doctor might suggest is almost entirely blurred. Our coolest kicks now look nearly identical to the kinds we always considered woefully uncool, from "comfort" brands like Tevas and Dr. Scholl's to true orthopedic shoes.
What is happening?
"Millennials care more about being comfortable," Meghan Cleary, footwear expert and co-founder of shoe brand Meghan SAYS, told Mic. "There's a streak of individuality, a streak of utilitarianism — 'I want to throw a couple of things in my backpack and go.'"
So thank the athleisure trend, which has us surrendering to ultimate comfort, as well as the shift away from gender norms altogether, as we embrace the kinds of clothes — especially shoes — that skew agender. But also thank your parents: As trendy millennial brands get more comfortable and gender-neutral, the "comfort" brands are getting more stylish for boomer shoppers.
"The $100-and-up comfort shoe is where the women's footwear market has grown most in the past few years — up 6% from last year," NPR reported, "thanks, in part, to the baby boomers who demand style with their comfort and will pay for it."
All that, and now we can't tell our Celines from your Dr. Scholl's. Can you?
Can you tell? These clogs might both have ankle straps, but only one pair is slip resistant, stain resistant and boasts a nylon stability shank. It's not the pair that reportedly costs $1,125.
Can you tell? Former Lucky editor and Instagram queen Eva Chen shows off sensible sandals in the back of a cab. But real Tevas were made for scaling walls at the beach.
Can you tell? Everybody wants these Celine slip-on sneakers. But do they come with a 1,000-mile guarantee like these orthotic sneakers?
Can you tell? Vince, purveyor of comfortable yet ridiculously pricey basics, is selling these black and gray slip-on sneaks. But they probably don't come with the built-in sock insole offered by Dr. Scholl's gray felt rivals.
Can you tell? It used to be that when you wanted ultimate comfort from your flats, you had to buy socks to stretch them out. Now Chanel has gone one better with the two-in-one sock-shoe. 
Can you tell? Fashion blogger Chiara Ferragni matches her Chanel Boy bag to her Dr. Scholl's wedges. Oops, we mean Celine wedges.
Can you tell? If your budget doesn't stretch to these Chanel sandals inspired by airport runways, you can always make your own with Teva's DIY sparkle kit.
Can you tell? Do feet problems run in families? Because the flats the Kardashians wear on "Sister Sunday" look a lot like Dr. Comfort's orthopedic shoes, padded tongue and all.
Can you tell? Were block wedges made to go with asymmetrical one-armed fleeces or LBDs? Alexander Wang and Dr. Scholl just can't agree on this one.
Can you tell? Prada and podiatrists recommend strappy metallics and thick heels.
Can you tell? Rubber soles? Check. Laces? Check. Conspicuous label printed on insole? Well, two out of three isn't bad.
Can you tell? These Marc Jacobs shoes are frowning because they don't have the arch support of Dr. Scholl's.
Can you tell? Watch out, Dr. Comfort. Mr. Discomfort Christian Louboutin has ditched sky-high stilettos for sensible Mary Janes.
Can you tell? But seriously. Favorite orthopedic shoes been discontinued? No worries, Alexander Wang's got your back.