Adele Performs New Song "When We Were Young" Live at the Church Studios in London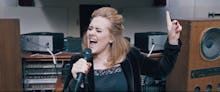 The reigning queen of blue-eyed soul had us at "Hello," but she's keeping us around. With three days left before releasing 25, her first album in four years, Adele is cranking up the anticipation, releasing a live performance of the album's track "When We Were Young" on Tuesday morning. 
The video features Adele performing the song at the Church Studios in London with a small backing band. Her vocal performance is unsurprisingly huge, though, and will get listeners feeling that nostalgic glow of their youths.
If it's not broken, don't fix it. Just like "Hello," the single that broke nearly every record in the book, "When We Were Young" is a slow, sweet but sad ballad with a soaring chorus. Adele controls her dynamics masterfully. It's hard not to feel chills when she hits her gut-wrenching high notes with a mix of surgical precision and heart.
In a similar way to the way she released "Hello," she previewed "When We Were Young" Monday through a teaser clip. Shared by 60 Minutes Australia's Twitter account, the clip showed Adele performing just the track's chorus live at the London venue the Church, and snippets of a larger exclusive interview. 
However, this time following the teaser fans barely had to wait a day before she shared the sweeping, emotionally charged ballad in full.
Adele also shared details about the track Monday with Sirius XM Music. "When We Were Young" was co-written with Tobias Jesso Jr., whom Adele recently interviewed for the Guardian.
"It was based on us being older, and being at a party at this house, and seeing everyone that you've ever fallen out with, everyone that you've ever loved, everyone that you've never loved, and stuff like that, where you can't find the time to be in each other's lives," Adele told Sirius XM. "And you're all thrown together at this party when you're like 50, and it doesn't matter and you have so much fun and you feel like you're 15 again. So that's the vibe of it really."
Adele also revealed her favorite lyric: "You look like a movie, you sound like a song/ My God this reminds me of when we were young."
Listen to the song below and hear 25 in full when it drops Friday.