ISIS Has More Attacks "in the Pipeline," US Warns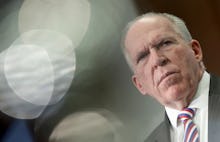 Speaking Monday in Washington, D.C., CIA Director John Brennan said he suspects ISIS has more attacks planned, according to CNN. During a forum in the Capitol, Brennan said the calculated attacks on Paris likely took months to organize and he believed the Islamic State group, or ISIS, could be mobilizing other terrorist operations.
"I would anticipate that is not the only operation that ISIL has is the pipeline," Brennan said, according to CNN. He said he doesn't believe what happened in Paris was a "one-off" event. "It is clear to me that ISIL has an external agenda, that they are determined to carry out these types of attacks," he said. Here's a video of Brennan's remarks:
In a video that circulated Monday, a group of men who claim ties to the ISIS attacks on Paris pledged to carry out a second attack and said their next target is Washington. 
President Barack Obama spoke to reporters Monday about ISIS, the government's strategy to counter the escalation of terrorism and the likelihood that ISIS could carry out an attack on the United States.
Obama emphasized the importance of not underestimating the extremists. "When you're talking about the ability of a handful of people with not wildly sophisticated military equipment, weapons, who are willing to die, they can kill a lot of people," he said. "And preventing them from doing so is challenging for every country."
Yet the United States has an upper hand in preventing these kinds of attacks, Obama added, in part because the nation has weathered assaults of this nature before.
"Obviously, after 9/11, we hardened the homeland, set up a whole series of additional steps to protect aviation, to apply lessons learned," Obama told reporters. "We've seen much better cooperation between the FBI, state governments, local governments. There is some advantages to geography with respect to the United States.
"My only interest is to end suffering and to keep the American people safe."