Adele Drops Full Version of "When We Were Young" —Full Lyrics, Video and Streaming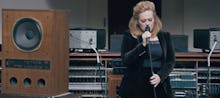 Adele's preview of her new single "When We Were Young" had fans itching to experience the full version Monday. Luckily, she didn't keep them waiting long — the inimitable singer-songwriter released Tuesday a live version of the unsurprisingly powerful, lush and tear-evoking song. 
"When We Were Young" is Adele's second single released off 25, to be released Friday, and is an indication the new album will be remarkable. Her lyrical prowess and soulful vocals are in full force in "When We Were Young," a song about the fear of growing old. The performance is from an exclusive interview with 60 Minutes Australia to air Sunday.
"You look like a movie/ You sound like a song/ My God this reminds me/ Of when we were young," Adele sweetly croons during the ballad's bridge. 
"Let me photograph you in this light/ In case this is the last time/ That we might be exactly like we were before we realized/ We were sad of getting old/It made us restless/ It was just like a movie/ Just like a song/ When we were young," she belts out in the chorus.
The song's full lyrics are available on Genius. It's not yet available to stream on Spotify but can be purchased through iTunes. 
Recent reports suggest Adele may keep 25 off Spotify upon its release unless the content-streaming service agrees to restrict non-paid users from streaming the album. Spotify denied the reports, however, and Adele's first single, "Hello," off the upcoming album, is available to stream through the free service. Upon its release, "Hello" became the first song to surpass 1 million downloads within the first week. On Monday, Billboard named Adele's last album 21 the greatest album of all time, beating out Michael Jackson's Thriller and The Sound of Music. 
Take a couple of minutes to cry. You're not alone.